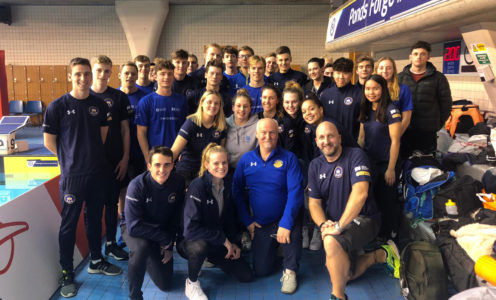 William Ryley and Luke Turley both won medals as the University of Bath's student swimming team finished a fine fourth overall at the 2019 Speedo BUCS Short-Course Championships in Sheffield.
Chemistry student Ryley, supported by a Goldsmith Sports Scholarship, finished runner-up to Olympic and World medallist Duncan Scott in the 1,500m freestyle in 15:11.85.
He was joined on the podium by Team Bath Dual Career athlete Turley, who took bronze in 15:15.83. The Sports Performance student then went on to win 800m freestyle silver in 7:57.64.
A busy championships saw Ryley also reach the final of the 400m freestyle (5th, 3:53.16), 200m freestyle (6th, 1:48.92), 200m individual medley (6th, 2:01.25) and 200m backstroke (8th, 1:58.66).
Santander Sporting Scholar Jacob Greenow was fifth in both the 200m backstroke (1:56.63) and 200m IM (2:00.85), as was Jasmine Iley in her 200m backstroke final (2:13.75). She also placed seventh in the 100m backstroke (1:02.06).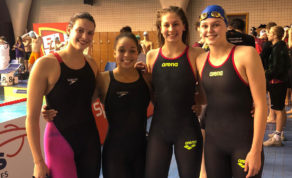 Meghan Byrne was sixth in the 400m freestyle (4:19.33) and seventh in the 200m IM (2:19.28), while other Bath finalists were Naomi Van Dongen (8th, 50m breaststroke, 32.70), Aliyah Webb (8th, 200m backstroke, 2:15.79) and Filippos Iakovidis (9th, 50m backstroke, 25.60).
The relay events saw Bath – coached by Mark Skimming and Andrei Vorontsov – finish just half a second off the podium in the women's 200m medley as Elise Hedley, Van Dongen, Hannah Denny and Jana Spinner clocked 1:54.82 for fourth place.
Denny and Spinner were also in the mixed 200m medley quartet, along with Iakovidis and Greenow, that finished sixth in 1:48.58.
And there was also a sixth-placed finish in the men's 200m freestyle relay for Ryley, Matthew Ferguson, Markos Iakovidis and Bruno Kempster in 1:32.38.
"It was a good team effort from everyone," said Skimming, Head of Swimming at the University of Bath. "It was predominantly a squad of freshers, experiencing BUCS competition for the first time, so to finish fourth overall was really good going."