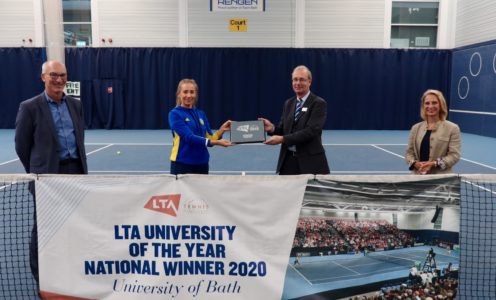 Wera Hobhouse, the MP for Bath, today praised the 'fabulous' tennis programme at the University of Bath when she visited the Team Bath Sports Training Village to recognise a double award success from the Lawn Tennis Association (LTA).
Mrs Hobhouse joined Tom Gibbins, the LTA's Head of Education, and representatives from Avon Tennis as Team Bath were awarded both the national University of the Year title and the South West regional award for Education Excellence.
The awards celebrate an outstanding 2019 for Team Bath Tennis, whose coaches and staff provide an all-inclusive programme ranging from touring professionals on the international circuit to under-6s picking up a racquet for the first time and people enjoying a recreational game with friends on the indoor or outdoor courts, both at the Sports Training Village and partner schools and clubs in the area like Saltford TC and Frome TC.
"It is a brilliant achievement by the University of Bath," said Mrs Hobhouse, who also watched a training session with young players on the talent development pathway and spoke to coaches about their work and plans to help get more people participating in tennis.

"This is a place where excellence can shine through but also a community facility where all of the people in Bath can participate. I think that is where Team Bath Tennis has excelled, by bringing in the community and making tennis a sport for everybody.
"Tennis is a fabulous sport that really keeps you fit, is easy to participate in and is such fun. I think it is important that people understand that it is a sport that anybody can try.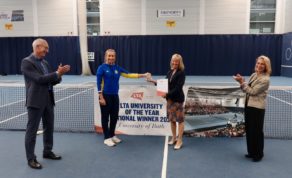 "The coaching team here is fabulous and picking up this national award speaks for itself, it recognises the work they do both in high-performance sport and participation sport. I am so proud of what this team has achieved."
Team Bath Tennis was a unanimous winner of the University of the Year accolade in this summer's LTA National Tennis Awards, with judges praising its thriving student set-up and all-encompassing tennis offer in inspirational facilities at the Team Bath Sports Training Village, as well as its huge outreach programme, innovative tennis and education programmes and sharing best practice with partners.
Local and Regional Performance Development Centres (LPDC and RPDC) were also set up at Team Bath during 2019, helping to nurture and guide the talent of young players within the local community and across the South West from the age of six.
Another major highlight of an unforgettable year was the successful staging at the Team Bath Sports Training Village of the first Fed Cup women's team tennis tie in Great Britain for 30 years, an event attended by thousands of spectators which included a vast range of community activities.
The University of the Year award was officially handed over to Alex Walker, Team Bath Tennis Manager, by Avon Tennis LTA Councillor Ian Alexander. The South West regional award for Education Excellence – which was won earlier in the summer and allowed Team Bath to progress to the national finals – was presented by Avon Tennis chair Kathy Curling.
Stephen Baddeley, Director of Sport at the University of Bath, said: "It was a pleasure to welcome Wera Hobhouse MP to the Sports Training Village, as well as our friends at Avon Tennis, and demonstrate the fantastic work being done by our Team Bath Tennis players, coaches and staff.
"We are incredibly proud of our tennis programme and it is a great honour to be recognised by the LTA as the University of the Year."