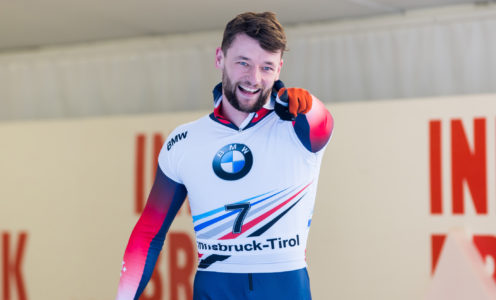 With dates for the new skeleton season confirmed and the Beijing 2022 Winter Olympic Games now exactly 500 days away, University of Bath-based Marcus Wyatt is looking to the future with excitement after a summer of uncertainty.
The 2019-20 skeleton season may have finished just before the country went into lockdown back in March but the sport has still been effected by the global pandemic, with the calendar for this winter remaining in doubt until last week.
However, the International Bobsleigh & Skeleton Federation (ISBF) has now confirmed that the World Cup season will begin in November as planned, albeit with seven of the eight races now taking place in Europe – along with February's World Championships, which has been moved from Lake Placid in the United States to Altenberg in Germany.
The only international top-tier race outside Europe will be March's season finale in Beijing, which doubles as a test event for the following year's Winter Olympic Games.
With a return to competition on the horizon and another Beijing milestone being reached, Wyatt – Britain's number one men's skeleton athlete – is looking to build on his impressive form of the last two seasons, where he finished sixth and eighth overall on the World Cup circuit.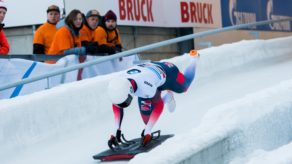 "I'm really excited about the next 500 days," said Wyatt, who trains at the Team Bath Sports Training Village (STV) with the University-based British Bobsleigh & Skeleton Association (BBSA).
"We have a really important year coming up, probably the second most important in the Olympic cycle. Qualification for Beijing is during the 2021-22 season but doing well this year would build up confidence and put me in a strong position.
"It would be pretty awesome to be part of an Olympic Games and it's really not far away now."
Wyatt and his GB team-mates have been back in training at the STV since early June, using the Team Bath Gym for strength sessions, the indoor sprint track for speed work and the UK's only outdoor push-start track for the all-important start practice.
With the 2020-21 season beginning as planned at Sigulda, Latvia in late November, preparation can continue as normal and Wyatt is grateful that he and his team-mates have been able to avoid too much disruption to their training.
"We were very lucky that we got to go back into training as early as we did and that lockdown came at the end of the season," he said. "We usually have April off anyway and then return to training at the start of May. This year we had to wait until early June before coming back into the Sports Training Village but our coaches gave us training to do at home based on the equipment we had available.
"It has been really good to be back at the STV over the past couple of months, to get that sense of normality back. Getting to see everyone again has been great and you can really feel things building towards the new season.
"It is going to be a Euro-focussed season with some venues hosting two races to cut down on travelling. Our team and sport is like a bubble during the season anyway, moving from venue to venue together, so hopefully it won't feel too different on the circuit."
As with all global events, there remains the possibility that the schedule for the next 500 days could change but Wyatt is staying focussed on what he can do to maximise his chances of representing Team GB at an Olympic Games.
"We saw the Tokyo Olympics and Paralympics get postponed this summer and I felt bad for the guys training at the STV who had to go through that uncertainty," he said. "I can't affect what is going to happen in the next 500 days, all I can do is control the controllables, focus on my training and be ready for whatever happens."
Skeleton athletes based at Team Bath have won medals at each of the last five Winter Olympic Games, seven in total including gold for Amy Williams (2010) and Lizzy Yarnold (2014, 2018). Visit www.teambath.com/skeleton to find out more and visit www.thebbsa.co.uk for more details about the British Bobsleigh & Skeleton Association.