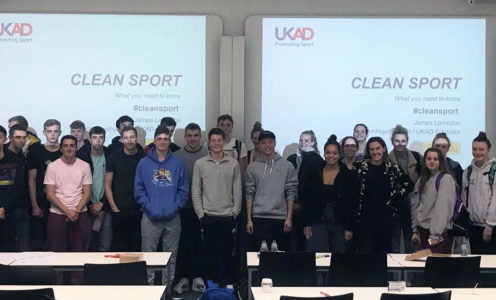 February marks a year since the University of Bath retained its UKAD [UK Anti-Doping] Clean Sport Elite Accreditation. Having originally been accredited in 2017, retaining the status in 2020 means the university is one of only four universities in the UK to meet the UKAD's highest level of accreditation.
Accreditation recognises the ongoing commitment of the University to providing a clean sport environment for all of our athletes, coaches, support personnel and community members.
Stephen Baddeley, Director of Sport at the University of Bath, said: "We value our partnership with UKAD, one of the leading anti-doping bodies in the world, and we are particularly proud to be a UKAD accredited site. We do all we can to promote an environment that supports clean sport and provides athletes with the information they need to ensure they play clean. That is so important, not only for the health of individual athletes but the integrity and credibility of sport."
As a part of Clean Sport Week we asked Ollie Toogood, Performance Programmes Team Manager at the University of Bath, to explain some of the steps we take to provide a clean sport environment…
"Education is a key component of our commitment to clean sport across a number of audiences. Last year education sessions were delivered to over 330 athletes. This year we have been forced to move to online delivery but more than 150 athletes have already received education sessions with more planned for later in the year. All of our education sessions are delivered by a team of seven in-house UKAD Educators.
"January 2021 marked the introduction of the new World Anti-Doping Code and consequently UKAD have updated their Clean Sport Advisor and Coach Clean qualifications. We are proud to have more than 50 staff members with these qualifications from across our department including the Coaching and Performance Support Team. These staff members have been busy renewing their qualification over the last couple of weeks.
"Education and learning doesn't just stop with our current athletes, coaches, and practitioners. For a message to really take effect, it is important to educate the next generation of athlete support personnel. This year, we have partnered with the Department for Health to deliver anti-doping lectures to more than 150 first- and second-year undergraduate students and direct them towards taking their Clean Sport Advisor qualifications. Additionally, some of our sports have started to introduce education sessions more widely throughout their programmes such as the Judo DiSE [Diploma in Sporting Excellence] Programme.
"Our work isn't just about the formal settings but we also look at the small steps we can take within the environment. We have regular signage around the STV, have a supplements statement in place and partner with the Students' Union to include information on clean sport in all BUCS (British University and Colleges Sports) membership sign-ups. This week, Team Bath's Lead Nutritionist, Dr Fiona Lithander, will deliver a webinar on sport nutrition and supplements with more than 75 people signed up to attend."