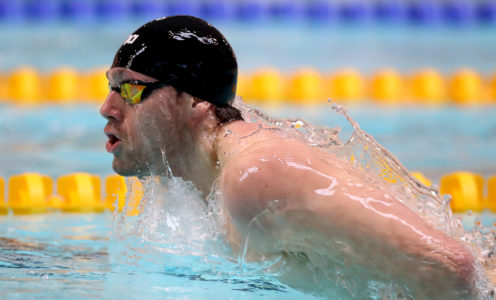 University of Bath-based swimmers continued their build-up to next month's Tokyo Olympic selection trials by recording 21 podium places between them at the British Swimming Invitation Meet in Manchester over the weekend.
Olympic medallist James Guy (pictured), coached by David McNulty at the British Swimming National Centre Bath, was in fantastic form once again as he won both the men's 100m and 200m butterfly.
His time of 51.71 put him just over a second clear of team-mate Jacob Peters in the 100m race, while Guy was almost four seconds clear of the field over 200m as he touched the wall in an excellent 1:56.79.
Peters, who was third in the 200m fly in 2:01.75, recorded a victory of his own in the 50m race in a time of 23.90 that was within two-tenths of his personal best.
Guy was also involved in one of the weekend's most thrilling showdowns, placing third (1:47.47) in a world-class men's 200m freestyle race that saw University of Bath sporting scholar Tom Dean finish just five-hundredths of a second behind winner Duncan Scott in 1:46.75. Fellow National Centre Bath swimmers Matthew Richards (1:49.44), Calum Jarvis (1:49.46) and Luke Turley (1:50.71) were fourth, sixth and eighth respectively.
Mechanical Engineering student Dean (49.11), supported by a Bill Whiteley Scholarship, was also pipped to victory by Scott in the 100m freestyle by just two-hundredths of a second, with rising star Richards third in an impressive 49.44 and University of Bath graduate Jarvis sixth in 50.98.
There was a National Centre Bath one-two in the women's 400m freestyle as Holly Hibbott claimed victory in 4:12.26 ahead of Economics & Mathematics student Leah Crisp (4:16.55).
The equivalent men's race saw Sports Performance student Turley – who, like Crisp, is supported by a Santander Scholarship – finish runner-up in 3:52.21. Dean was third in 3:54.27, with team-mate Kieran Bird fifth in 3:56.49 and Goldsmith Scholar William Ryley eighth in 4:03.27.
Freya Anderson won the women's 200m freestyle in a quick time of 1:58.23, with Hibbott just three-hundredths of a second shy of third place in 2:00.55, and was runner-up in the 100m free (54.51) to University of Bath alumna Anna Hopkin (54.44) who also claimed a rapid victory in the 50m freestyle (25.46).
The men's sprint saw Richards continue a fine meeting by placing second in 22.81, while there were also runners-up spots for Crisp in the women's 800m freestyle (8:49.66) and Emily Large in the 200m butterfly (2:09.54).
Large was also third in the 100m fly (59.65), as was Turley in the men's 1,500m freestyle (15:29.41). Team-mates Hibbott (1:00.80) and Kieran Bird (15:46.84) were fifth in those respective races.
Natural Sciences student Jacob Greenow, who is coached by Mark Skimming and supported by a Santander Scholarship, had an impressive weekend as he finished third in both the 200m backstroke (2:02.04) and 400m individual medley (4:23.50). Training partner Ryley was eighth and sixth in those respective races, while Sports Performance student Brodie Williams was fourth in the 200m backstroke before going one better in the 100m backstroke (55.39).