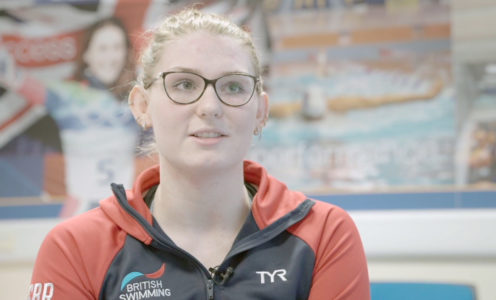 Freya Anderson says she is excited to finally be competing for Tokyo Olympic qualification as University of Bath-based swimmers head to the London Aquatics Centre for this week's British Swimming Selection Trials.
World, European and Commonwealth medallist Anderson is among 18 swimmers based at the Team Bath Sports Training Village taking part in the Trials, with places in the Team GB squad for this summer's rescheduled Olympic Games the ultimate prize.
Anderson joined the British Swimming National Centre Bath squad from Ellesmere SC in May 2020 when, after ten weeks out of the pool during the first Covid lockdown, elite athletes were able to resume their preparations under the Return to Training protocol.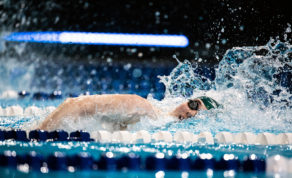 With competition opportunities limited during the past 15 months, she has spent hundreds of hours training in the London 2012 Legacy Pool under the guidance of coach David McNulty – whose athletes have won six medals at the past three Olympic Games – and can't wait to put that hard work into practice when the Trials take place from April 14-18.
"I'm really excited to see what I and the rest of my training group can do at trials," said Anderson, who will compete in the 100m and 200m freestyle.
"There is always a bit of added pressure, it's Olympic trials, but you can't think of it like that. I have to go there and just race. I really enjoy racing and haven't had many opportunities to do so in the past year so it will be good to get there and race again."
When she has had chance to compete, Anderson has looked in fine form since her move to Bath and smashed her own British 200m freestyle short-course record while representing London Roar in the International Swimming League.
"It's been amazing moving to Bath, it's just a really good environment to be in," she said. "I was meant to move in September 2020 [after the Olympics were originally scheduled] but my coach and I decided to come here in May for the return to training. We had ten really good weeks of training in the summer and it has gone well since then.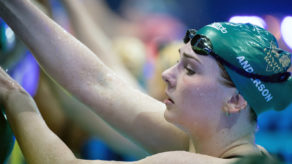 "Everyone in my group is so professional and I look up to all of them. We are all really close friends and it feels like a family.
"Working with Dave is amazing too, he just really understands all of his athletes and makes sure we are OK as both an athlete and a person, I really like that. I'd worked with him before at the World Championships and he has always been such a bright, bubbly person to be on poolside with."
Other Bath-based swimmers competing at the Selection Trials include Rio 2016 medallist James Guy and University of Bath sporting scholars Leah Crisp, Tom Dean and Luke Turley, who are all part of the National Centre Bath squad, and Jacob Greenow and Will Ryley, who are coached by Mark Skimming and Andrei Vorontsov in the University's student swimming programme.
---
Who to watch and when
Wednesday 14th April
Women's 200m freestyle: Leah Crisp, Holly Hibbott, Freya Anderson.
Men's 400m freestyle: Will Ryley, Luke Turley, Kieran Bird, Tom Dean.
Women's 100m butterfly: Ciara Schlosshan, Emily Large.
Men's 200m IM: Cameron Brooker, Jacob Greenow.
Thursday 15th April
Men's 200m butterfly: James Guy.
Men's 100m backstroke: Cameron Brooker, Jono Adam, Brodie Williams.
Men's 800m freestyle: Will Ryley, Luke Turley, Kieran Bird.
Women's 800m freestyle: Leah Crisp.
Friday 16th April
Men's 400m IM: Cameron Brooker, Will Ryley, Jacob Greenow, Brodie Williams.
Women's 200m butterfly: Ciara Schlosshan, Emily Large.
Men's 100m freestyle: Calum Jarvis, Tom Dean, Matt Richards.
Women's 400m freestyle: Leah Crisp, Holly Hibbott.
Saturday 17th April
Women's 100m freestyle: Freya Anderson.
Men's 50m freestyle: Bruno Kempster.
Men's 100m butterfly: Jacob Peters, James Guy.
Sunday 18th April
Men's 200m backstroke: Jono Adam, Will Ryley, Cameron Brooker, Brodie Williams.
Men's 200m freestyle: Kieran Bird, Matt Richards, Calum Jarvis, Tom Dean, James Guy.
Women's 1500m freestyle: Leah Crisp.
Men's 1500m freestyle: Luke Turley.