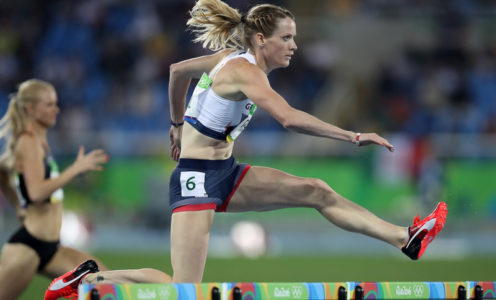 Hurdler Eilidh Doyle, who won Olympic, World, Commonwealth and European medals while training at the University of Bath, has announced her retirement from competitive athletics after an outstanding career.
Doyle is Scotland's most decorated athlete of all time having won 19 major championship medals, the vast majority of them – including a 4x400m relay bronze for Team GB at Rio 2016 – secured while based at the Team Bath Sports Training Village between 2011 and 2019.
She won her last major medal on home soil at the 2019 European Athletics Indoor Championships in Glasgow, silver in the 4x400m relay, before taking time out of the sport to have her first child with husband and coach Brian.
Doyle has now decided to officially hang up her spikes, saying: "I take with me so many amazing memories but, most importantly, I step away happy in the knowledge that this is the right time for me to go. I'm not saying it was an easy decision to make but it was the right one and I am grateful I got to choose when it happened.
I have some news to share with you all ❤️ pic.twitter.com/hjp6TVhhNJ

— Eilidh Doyle (@EilidhDoyle) June 2, 2021
"The sport has brought me so much more than just medals. I have made lifelong friends, experienced incredible atmospheres, made history and even met my husband because of it.
"Now we have our wee boy, Campbell, and so much more to look forward to as a family. I do find it fitting however that my last international competition was winning a silver medal in front of a home crowd in Glasgow. Athletics will always hold a special place in my heart and now I get to enjoy it from the other side as a fan.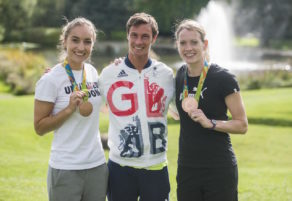 "I have so many people I need to thank, who have been part of my journey, and over the next couple of weeks I hope to be able to thank you all personally. To everyone who has supported me and cheered me on over the years, I am so grateful to you all. I would like to give special thanks however to those who were there at the very beginning and introduced me to the sport I love, my mum, my dad, my big sisters and my big brother.
"Finally, I say thank you to Brian, not only for being my coach, my soft tissue therapist, for looking after the dog when I was travelling the world and, more recently, for looking after Campbell to let me train, but for being my supporter, challenger and for showing me how easy it was to pursue my dreams.
"What an adventure it has been and now I look forward to the next one, whatever it may be."
It was after winning her first senior medal, 400m hurdles silver at the Delhi 2010 Commonwealth Games, that Doyle joined legendary coach Malcolm Arnold's training group at the University of Bath.
"I was running quite well but felt like I needed a specialist hurdles coach," she recalled. "I'd met Malcolm a couple of times at different events, so I rang him and asked if he'd be willing to coach me – thankfully he said yes.
"There's just a really nice, relaxed atmosphere in the training group and at the University. Everything is here and everything is near – the tracks, the gym, the physios, soft-tissue therapy, hydrotherapy, all you need. It just makes our jobs so much easier."
Doyle, nee Child, went on to make her Olympic debut at London 2012 before winning her first World Championship medal in 2013, 4x400m relay bronze which was later upgraded to silver.
One of Scotland's faces of the Glasgow 2014 Commonwealth Games, she won another 400m hurdles silver on an emotional evening at a packed Hampden Park and followed that up with gold at the European Championships, where she also won 4x400m bronze. Further relay medals followed in 2015 as Doyle helped Britain to bronze at both the World Relay and World Championships.
A memorable 2016 saw Doyle win 4x400m relay gold at the European Championships before being part of the GB quartet that took bronze at the Rio Olympic Games, along with fellow Bath-based athlete Emily Diamond. She also reached the 400m hurdles final in Brazil.
Doyle's status within her sport was demonstrated when she was voted by her peers to be Britain's team captain at the London 2017 IAAF World Championships. She once again reached the 400m hurdles final before winning silver in the 4x400m relay.
2018 saw Doyle win her first individual medal on the global stage when she claimed a well-earned 400m bronze at the World Indoor Championships in Birmingham. The following month saw her act as flag-bearer for Scotland at the Gold Coast 2018 Commonwealth Games, where she again won 400m hurdles silver – the third of her career.
A record-equalling fifth appearance for Britain at a European Championships followed at Berlin 2018, where Doyle won bronze in the women's 4x400m relay, before the 2019 Indoor Championships in Glasgow provided a fitting conclusion to a magnificent career.