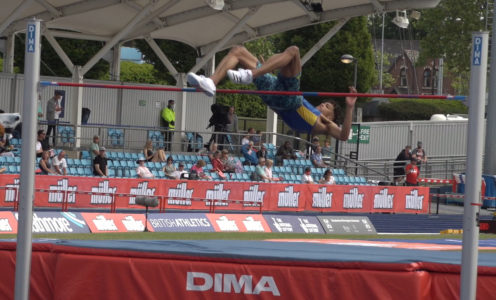 High jump star Tom Gale says he is proud to be representing both Team GB and Team Bath when he makes his Olympic debut at Tokyo 2020.
Bath-born Gale has been training in his home city throughout his sporting career, first joining Team Bath Athletics Club as a raw beginner eight years ago and honing his precocious talent at the Team Bath Sports Training Village to become one of the world's leading high jumpers.
Now after an anxious 17-month wait to officially turn Olympic qualification into Team GB selection, during which time he underwent knee surgery, Gale is excited to show what he can do on the biggest stage of all – and is grateful for all the support is getting from back home.
"With the year we've had and my own personal preparation it's just a massive relief to have secured my spot," said the 23-year-old. "To be part of the GB team is a massive honour and I'm really proud – that's a word I've been using a lot lately!
"Team Bath AC and the University of Bath have been absolutely phenomenal in supporting me and I'm really proud that I can represent both Team GB and Team Bath at an Olympics. I've been with the same club throughout my athletics career and they've been fantastic in giving me access to the university and the opportunity to develop as an athlete.
"I was born in Bath, raised in Trowbridge and I've trained here for a long time. My friends are part of Team Bath so it feels like an extended family."
Gale first tried his hand at high jump while in Year 9 at John of Gaunt School in Trowbridge after being encouraged by his PE teacher, Mrs Marshall. He immediately showed a natural aptitude for it, winning his first competition, and shortly afterwards was invited to join Team Bath AC, who train at the University's £35million Sports Training Village.
"One of the coaches, Caroline Howarth, asked me if I wanted to start training with them and I had nothing better to do on a Tuesday and Thursday evening so I gave it a go," he recalls. "As I started getting into it, I realised there was a bit of potential there.
"I've always been quite cocky and remember when I was about 16 and my PB was 1.96m, sitting in a mate's living room and them asking 'are you going to go to the Olympics?' and me saying 'yeah, probably'!"
Fast forward seven years and that personal best is now 2.33m, a height achieved in February 2020 that set the Olympic qualification standard although he had to wait until last month before finally securing his selection with victory at the Muller British Championships.
Commonwealth champion and training partner Levern Spencer, who is also coached by Denis Doyle at Team Bath, is going to the Olympic Games too but for a fourth time after previously representing her native Saint Lucia at Beijing 2008, London 2012 and Rio 2016.
"Levern started competed in 1998 which is the year I was born, so she has as much experience in high jump as I do life!" laughed Gale. "She has given me a lot of fantastic tips and I've loved having her here. I wind her up probably more than she deserves but that's what you get if you come and train with me."
Gale is among the first Team GB track and field athletes in action at Tokyo, with his qualifying round taking place in the opening session in the Olympic Stadium on Friday 30th July (1am BST). The minimum goal is a place in the final on Sunday 1st August (11am BST) but Gale is setting his sights higher than that.
"A successful Games for me would be to medal but I go into every competition believing I can win," he said. "I'm not someone who turns up just to compete, I don't want a participation medal.
"It's a mental game at the end of the day, we all know we're the among the best in the world and it's down to whoever can hold their game until the very end."
Visit teambathac.org to find out more about Team Bath AC or find out more about the athletics programme at the University of Bath at teambath.com/athletics.