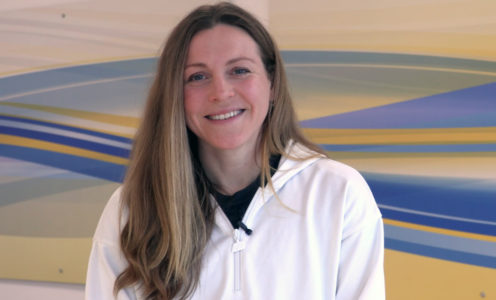 University of Bath-based triathlete Vicky Holland says she is "shooting for the top" as she goes into the third and final Olympic Games of her stellar career.
After making her debut on home soil during the unforgettable London 2012 Games, Holland made history four years later when she became the first British woman to win an Olympic triathlon medal by bagging a brilliant bronze at Rio 2016.
Now the 2018 World Champion is returning to the start line at Tokyo 2020 for the women's race on Monday (10.30pm BST) determined to get back on the Olympic podium but not feeling any weight of expectation following her previous achievements.
"I'm looking at one final Olympic Games where I am shooting for the top," said Holland, who trains at the Team Bath Sports Training Village with the British Triathlon Bath National Performance Centre.
"Whatever I do I will be really proud of the fact I'm going to be a three-time Olympian. I will always have an Olympic medal, no matter what happens, and that is something I will take great pride in.
"Being an Olympian was something I dreamed of from when I was six years old and I watched the Barcelona Games. I remember seeing these incredible athletes win gold medals for Great Britain and thinking that I wanted to go to an Olympics and achieve something.
"I didn't know what sport I would end up doing or how long it would take me to get there but I first achieved that goal in London at a home Games. That was the most special experience I will probably ever have in my life, to be part of that home team witnessing what I think are some of our greatest moments as a nation – all supporting one another, coming together as a country, it was just the most unbelievable two weeks.
"To go again in Rio but this time knowing I was a medal contender and deliver on that was a completely different but equally special experience.
"Being a two-time Olympian and having won a medal in Rio really helps me going into another major Games, just from understanding the pressure and circus that goes around the Olympics and to understand how to build my training up to that one day. Having said that, this year's Olympics are going to have a different feel to them with different restrictions so it will be a whole new experience again."
Also competing in the women's race in Tokyo is Canada's Joanna Brown, who was a training partner of Holland at the University of Bath before returning to her home country at the start of the pandemic.
Holland, coached by Rhys Davey, could also compete in the mixed team relay, a new addition to the Olympic triathlon timetable which is taking place on Friday (11.30pm BST).