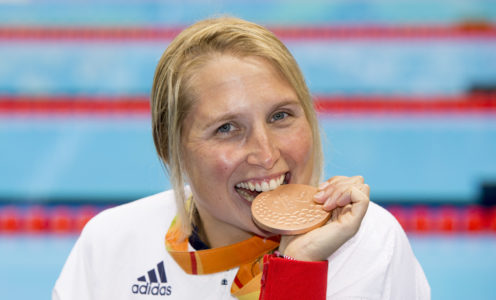 Ten-time Paralympic Games medallist and University of Bath Hall of Fame for Sport inductee Stephanie Millward has announced her retirement from competitive swimming.
The Team Bath AS swimmer has a long association with the University of Bath, having trained there a teenager before a Multiple Sclerosis diagnosis put her swimming career on hold for ten years.
Upon her return to the pool she quickly became one of the world's leading Paralympic swimmers, representing GB at the Beijing 2008 Games before winning five medals at London 2012 – four silver and a bronze.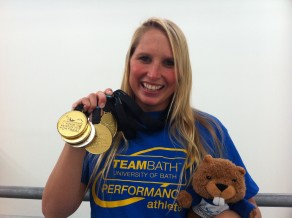 She moved her training base back to the Team Bath Sports Training Village after those Games and went on to win a quartet of titles at the 2013 World Championships before claiming two gold medals, two silver and a bronze at Rio 2016.
In total Millward won 40 medals at major international competitions and brought down the curtain on her magnificent career by representing ParalympicsGB at a fourth Paralympic Games in Tokyo this summer.
Millward, who was inducted into the University of Bath Hall of Fame for Sport in 2019, said: "I have spent the last 13 years travelling the world representing GB and competing in national, European, World, Commonwealth and Paralympic competitions, securing more than 700 swimming medals, of which 10 are Paralympic ones, including my coveted two golds from Rio 2016.
"I have been awarded an MBE and been given the freedom of my local town, Corsham. I am a patron and ambassador to nine charities, I have met Her Majesty The Queen on five occasions, I've met Prime Ministers, MPs and dignitaries and been given the opportunity to speak at school assemblies, sports clubs and present to large companies. It's all quite difficult to process but I am honoured, humbled and proud in equal measure.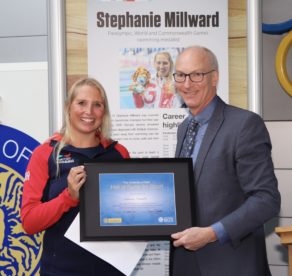 "Now is the time to celebrate and thank all those that helped me to come to terms with my incurable MS. To Adrian, now my husband, who encouraged me back into a pool in 2008 and who has been my rock ever since. To the coaches and support staff who have enabled me to reach the pinnacle of Paralympic sport. To the National Lottery, UK Sport, ParalympicsGB and British Swimming, and others who provide the opportunity for those of us with a disability to compete.
"To my family, friends, supporters and my special employers for believing in me and not only giving me the opportunity to swim in Tokyo, but to prepare for me this day, my retirement day. Finally, and so importantly, thank you to the wonderful British people who have been so unbelievably supportive of me during my entire career."
Speaking on Stephanie's retirement, British Para-Swimming Head Coach Rob Aubry said: "Stephanie has been a major part of British Para-Swimming teams for well over a decade. Ever since I began working with her in the South West of England, Stephanie has been a ray of sunshine and a big supporter of the team. More importantly, she was an extremely hard worker.
"She should be so incredibly proud of her achievements and the hard work and dedication that she has had to show in supporting her swimming career. She will be missed, not only as an athlete in her own right but also for her kind words and constant support for all those around her."