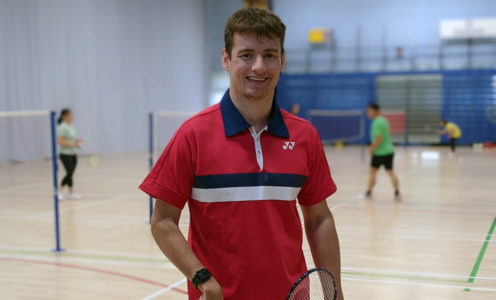 After a year in which he made ParalympicsGB history, Tokyo 2020 medallist Dan Bethell has enjoyed more success after returning for a training spell at the place where his para-badminton journey began – the University of Bath.
Bethell, who won SL3 men's singles silver when the sport made its Paralympics debut at this summer's rescheduled Games, took three titles at last week's UK Para-Badminton Championships in Sheffield after training for the past two months with the University's student squad led by Peter Bush.
He first trained at the Team Bath Sports Training Village aged 10 but it was in a different racket sport to that in which he became Britain's first Paralympic medallist.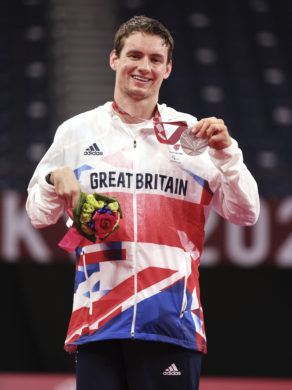 "My whole badminton journey started here," said Bethell. "I started out as a tennis player and Craig Proctor was my coach from when our family moved to Bath when I was about four years old. He joined Team Bath Tennis around 2006 and I followed him here.
"I watched the Beijing 2008 Games and was inspired to get into Paralympic sport but they only have wheelchair tennis at the Paralympics. That's when I found out about badminton. I told Craig I was thinking of getting into para-badminton and he obviously knew Pete from working in the same office, so he arranged for me to meet him.
"I had a beginners' session here and then Pete put me in touch with some other coaches. I also joined the Team Bath Futures talent development programme in 2012 and trained with Pete through to 2017, when I moved up to Sheffield to train full-time with the Para Badminton Squad.
"Our programme shut down for a couple of months after Tokyo to give everyone a break but I wanted to keep up a bit of training. I got in touch with Pete who has sorted me out with on-court training, strength and conditioning, and access to the physio through to the New Year. It's been great to be back, I've really enjoyed it."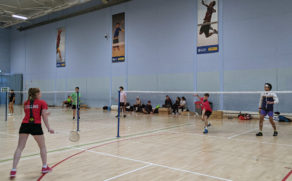 Bethell put his work in Bath to good use at the UK Para-Badminton Championships as he won the men's singles, men's doubles and mixed doubles titles. That was his first competitive outing since the Tokyo gold-medal final against world number one Pramod Bhagat in September, where he was narrowly beaten 21-14 21-17 but became Britain's first-ever Paralympic medallist in the sport.
"Tokyo was amazing, the whole experience," said Bethell. "Covid obviously had a massive impact, we couldn't go to see any other sports and were tested every day, but just being part of that environment and going into the athletes' village with people like Ellie Simmonds, Jonnie Peacock and Kadeena Cox, athletes I have watched and admired for years, was such a surreal and amazing experience.
"The organisation committee did an incredible job at making the Games still feel really special, despite all that was going on. It was a dream come true."
The focus is already turning to Paris 2024 and Bethell is delighted see para-badminton going from strength to strength as the new Paralympic cycle starts.
"There were four of us on the high-performance programme ahead of Tokyo but there are three additional medal events for Paris so we have more athletes coming in," he said. "There's a really good development pathway in place too and more youngsters want to get involved in para-badminton, which is one of the things I've enjoyed most about my Tokyo success.
"I went back onto social media after the final and had so many messages from people with disabilities saying they had seen me play and were inspired to try the sport. That was quite a cool moment for me because that's what I felt like back in 2008."
Find out more about the badminton programme at the University of Bath by visiting teambath.com/badminton.