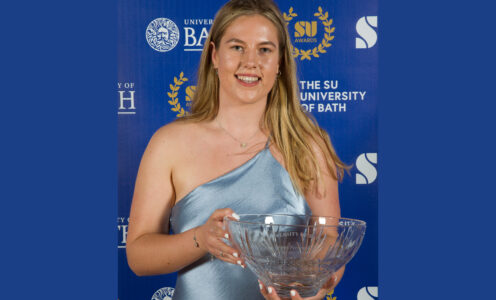 Footballer Charlotte Greenlees has been voted by her fellow student-athletes as the University of Bath Sports Personality of the Year in the 2022 Blues Awards.
The award recognises the Social Sciences student's commitment to the University's football and futsal clubs during the past four years, both on the pitch with the women's 1st XI – a team she captained during her second year – and off it as social secretary and then, this season, club chair.
Greenlees, who spent her placement year teaching English to Malaysian children and working alongside a group of Canadian researchers on a study involving indigenous peoples, was praised in the award citation: "She gives up a significant portion of her free time in order to run the club, coordinating with The SU officers and staff who have nothing but praise for her."
She received her award from Professor Ian White, Vice-Chancellor and President of the University of Bath, during a glitzy ceremony at The Assembly Rooms in Bath on Wednesday as The Blues Awards – the annual celebration of student sport at the University, organised by The SU Bath – returned as an in-person event for the first time since 2019.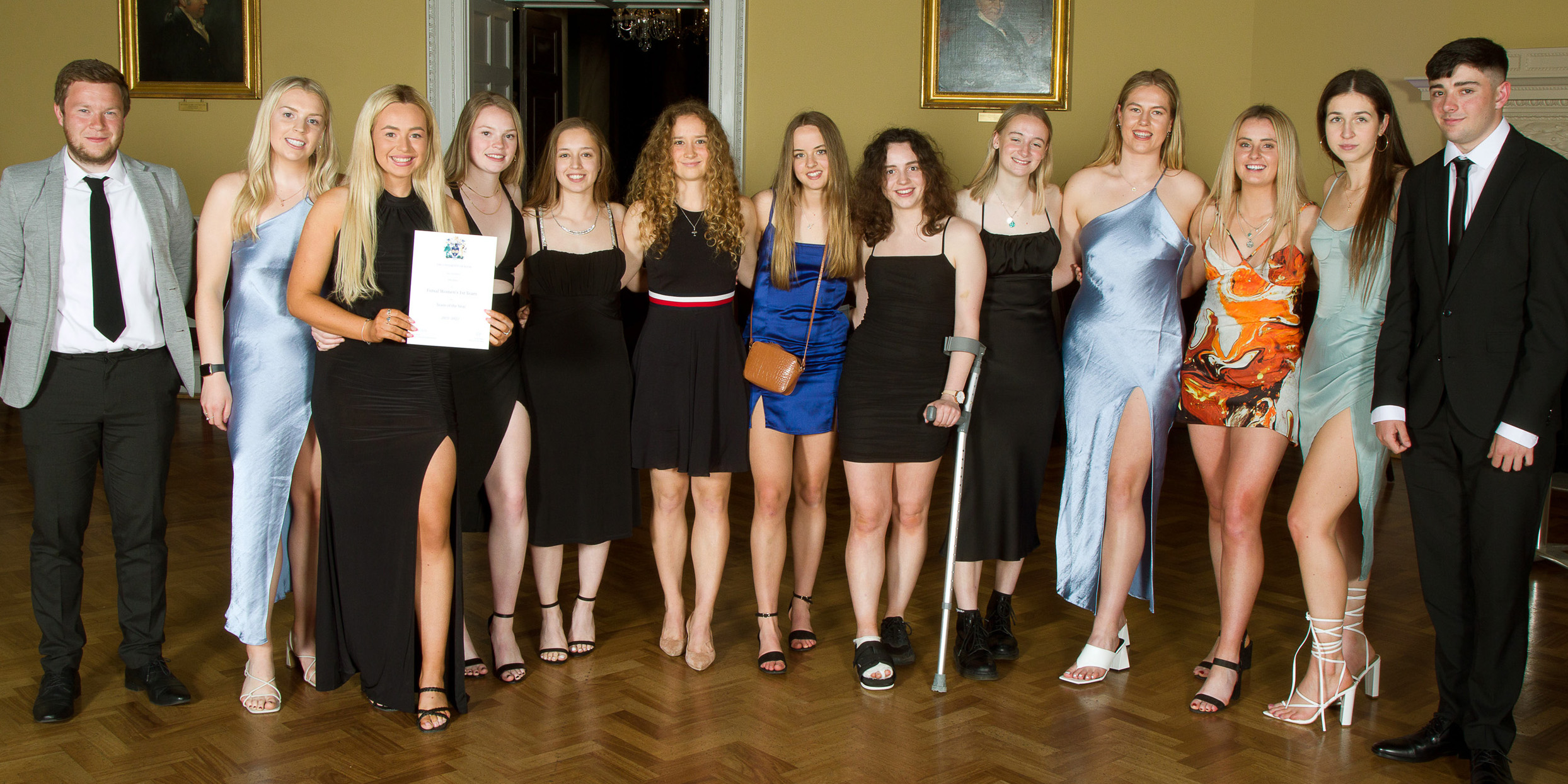 Highlighting the diversity of student sport on offer at the University, Greenlees' fellow nominees for the coveted Sports Personality prize were sailor Athénaïs Mangin (Politics and International Relations), Luxembourg squash player Arnaud Masset (Aerospace Engineering) and Olympic swimming champion Tom Dean.
Mechanical Engineering student Dean was among 18 Olympians and Paralympians who train at the Team Bath Sports Training Village to be awarded a Special Honorary Blue in recognition of competing at either the Tokyo 2020 or Beijing 2022 Winter Games during the past 12 months.
Yesterday @MattWeston02 , @BroganCrowley and @MarcusWyattGB were invited to attend the @uniofbath Blues Awards & Dinner held at the Assembly Rooms 🎖

They won an Honorary Blue award for the recognition of qualifying to represent their country at the #Beijing2022 Olympic Games 🙌 pic.twitter.com/zCe0w1t9dU

— GBBobsleighSkeleton (@The_BBSA) May 5, 2022
Honorary Blues were also presented to two World Champions – Ben Proud, coached by Mark Skimming in the University's swimming club who won 50m freestyle gold at the World Short-Course Championships, and Imy Bantick, a Sport and Exercise Science student who won the U23 lightweight women's title at the 2021 World Rowing Indoor Championships.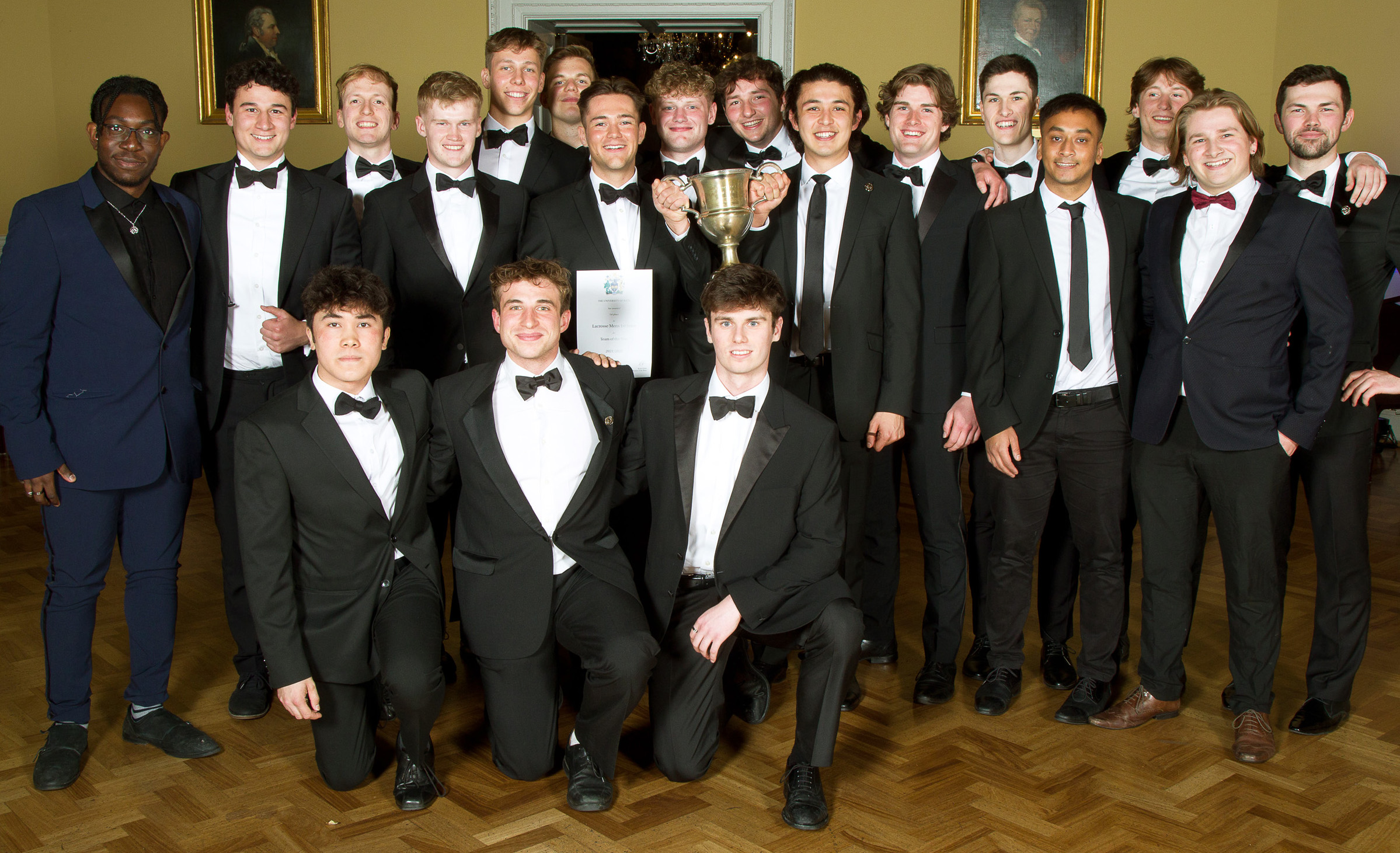 University of Bath Sailing Club were named as Club of the Year and BUCS Team of the Year was won by the lacrosse men's 1sts, while the David Vanderlinde Award recognising sporting and academic success went to basketballer Maria Valderrabano (Civil and Architectural Engineering).
It was a good night for Bath Jets Cheerleading Club as Olivia Rippon (Psychology) was named as Volunteer Coach of the Year and Monique Phillibert (Chemical Engineering) received the Gethin John Bevan Club Member of the Year award.
More than 50 student-athletes were also presented with Blues, Colours and Ribbons in recognition of their sporting achievements during an evening that celebrated the return of a full student sporting calendar following the disruption of Covid in 2020 and 2021.
Elizabeth Stacey, Sports Officer for The SU, said: "I think it is fantastic to see so many students participating in sport this year, with nearly 6,000 students involved with some kind of sporting activity and 1,500 involved in BUCS competition.
"It is phenomenal to see so many student leaders driving the clubs forwards – creating new events, volunteering their time coaching and participating in sport – and this was really highlighted this year at the Blues Awards.
"We are so fortunate to have such a budding sporting community here at Bath, of all levels and ability. It is something I felt part of as a student and am so proud to represent to other Universities and Governing Bodies now as Sports Officer."
2022 Blues Awards Roll of Honour
University of Bath Sports Personality of the Year: Charlotte Greenlees (football). Runners-up: Tom Dean (swimming), Athénaïs Mangin (sailing), Arnaud Masset (squash).
Club of the Year: University of Bath Sailing. Runner-up: Bath Jets Cheerleading Club.
Gethin John Bevan Club Member of the Year: Monique Phillibert (cheerleading).
BUCS Team of the Year: Lacrosse men's 1sts. Runners-up: Football women's 1sts.
The David Vandelinde Award: Maria Valderrabano (basketball).
Volunteer Coach of the Year: Olivia Rippon (cheerleading).
Full Blue: Arnaud Masset (squash).
Half Blue: Mia Blazey, Brooklyn Cheal-Ferris, Kate Walsh (association football and Futsal); Molly Chapman (badminton); Ramzi Nasr, William Rawlins, Oliver Walker (lacrosse); Kamal Deris (Taekwondo); Freya Davies, Louis Newman (tennis).
Honorary Blue: Imy Bantick (rowing); Ben Proud (swimming).
Special Honorary Blue: Tom Gale, Levern Spencer (athletics); Prisca Awiti-Alcaraz, Megan Fletcher (judo); Joanna Muir (modern pentathlon); Freya Anderson, Kieran Bird, Tom Dean, James Guy, Calum Jarvis, Jacob Peters, Matt Richards, Brodie Williams (swimming); Michael Taylor (para-triathlon); Brogan Crowley, Matt Weston, Marcus Wyatt (skeleton); Dimitri Coutya, Oliver Lam-Watson (wheelchair fencing).
Colour: Gregory Kemp (American Football); Charlotte Greenlees, Matthew Talbot (association football and Futsal); Emma Hooper, Timothy Scott (badminton); Josh Davis, Ffion Platt (basketball); Charlotte Williams (cycling); Keir Ansell, Charlotte Crombie, Emma Ladd Gibbon, Katie Laffey, Chloe Lewis, Daniel Verity (hockey); Phoebe James, Annabelle Stoney (lacrosse); Maya Meredith, Selina Radcliffe, Caitlin Rowley (netball); Ed Ashcroft, Rory Mead (rugby); Emma Bennett, William Hopes (sailing); Bruno Kempster (swimming); Addi Duhan (table tennis); Oscar Glenister, Kate Horsburgh, Oliver Matthews (tennis); Olivia Carr, Constance Lynch (Ultimate Frisbee); Jaime Elosua Feliciano (volleyball); Isaac Allen, Jade Bikard, Rebecca Milne, Danielle Cooper, Natalie Smith (water polo).
Honorary Colour: Matthew Houghton, Charlotte Greenlees (association football and Futsal); Monique Phillibert (cheerleading); George Creasey (cycling); Dan West, George Malone (rugby); Athénaïs Mangin (sailing); Addi Duhan (table tennis).
Ribbon: Josh Henderson, Isabel Hurst, Eileen Russell (touch rugby).