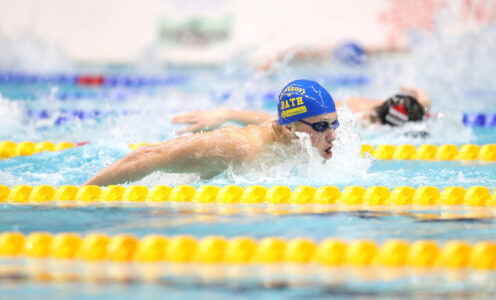 There were a host of personal bests and medals, including gold for Jana Spinner and Josh Gammon, when University of Bath student swimmers impressed at the Swim England National Winter Championships 2022.
Natural Sciences student Spinner secured two titles, touching the wall first in both the 100m backstroke (1:08.49) and 100m individual medley (1:01.50). She was also runner-up in the 50m breaststroke (31.63).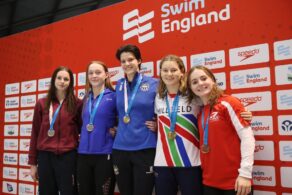 Gammon, who studies Sports Performance, followed up his three medals at the BUCS Short Course Championships by winning 200m butterfly gold (1:54.31) and silver in both the 50m butterfly (23.19) and 100m butterfly (51.07).
Business student Jemima Hall was also on the podium, winning 200m freestyle silver (1:57.42), and finished just outside the medals in the 100m freestyle (54.94).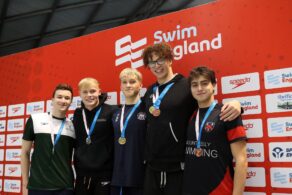 Other fourth-placed finishes were recorded by Ekaterina Price (200m butterfly, 2:12.08), Isaac Dodds (400m IM, 4:19.28), Miles Drabwell (100m IM, 55.03), Jasmine Iley (200m backstroke, 2:10.76) and Meghan Byrne (400m IM, 4:45.57).
Sports Performance student Markos Iakovidis, who competed at the Birmingham 2022 Commonwealth Games, also set a new Cyprus national short-course record in the 50m breaststroke as he placed fifth in 27.35.
There were a number of freshers who also made junior finals, demonstrating their great improvement since arriving at the University in September.
Chemical Engineering student Henrique Mascarenhas was also in record-breaking form at the Portugal National Championships this week, setting a new Angola national short-course record of 50.77 for the 100m freestyle.