University of Bath sport scholar Tom Edwards became British champion in 2015, has since won multiple Welsh titles and in January rose to number one in the UK's epee fencing rankings – all while studying a full-time degree.
His rise from 12th in the country to top spot may be attributed to a number of different factors, including a specialised training programme which has seen the 23-year old train with Olympic athletes from Pentathlon GB, whose training base is the University, for the past four years.
"I meet with the modern pentathlon team to discuss how to help with their training," he says. "In return, I benefit from the coaching side of things – we get invited to their training camps where we help with their training but also get the huge benefits of one or two-week camps in altitude training, for example."
"Because the pentathletes specialise in five sports whereas I specialise in just one, they often look to me to see what I'm doing and learn from me but it's mutually beneficial."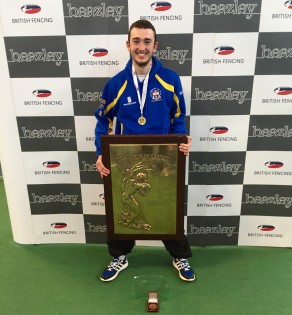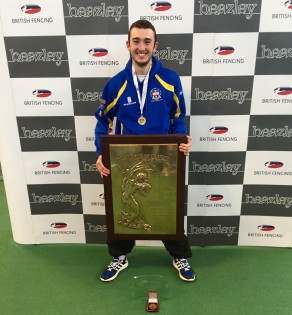 With such a performance-orientated training programme, not to mention domestic and international competitions to attend, it might be assumed that Edwards' academic performance has suffered as a result.
On the contrary, Edwards is now in the fourth year of his masters-integrated Sport and Exercise Science course and is benefiting from the flexibility offered by academic staff who are understanding of his training and competing demands.
He says: "Juggling studies with training and competing can be quite difficult but I'm very fortunate in that the academic team are very good about things. When I need an extension or if I'm struggling for something they're very supportive.
"For example, I was competing in Hungary last weekend. I spoke to the lecturer about it beforehand and they recorded the lecture for me to catch up on when I returned.
"Staff are extremely supportive – they want me to do well which is very nice to have."
Edwards, who has represented Wales and Great Britain at major international competitions, receives a Santander Scholarship which helps support the financial costs of his training, equipment, nutrition and competition.
"The £1,000 a year I receive from my scholarship is big for my sport so that was one of the main reasons to come here in the first place," he says.
"In fencing we're completely self-funded. Competitions can be expensive to attend – especially international competitions which can cost £300-700 – then you have costs such as petrol, eating the right food and if a sword snaps that's £100.
"But luckily, with support from the University of Bath I don't have to pay for coaching and sparring. The Elite Athlete Fund is massive for me."
With the University's support both financially and academically, Edwards feels he is in the right place to succeed with his studies and fencing, and now has his sights firmly set on taking back a certain crown.
"I want to get the British title back," he says. "In 2016 I lost in the final by one hit, and I would have been the first person in a very long time to retain the title [following his 2015 success].
"Now I've got to number one – which was the goal for this season – the aim now is to get the national title back and to go to the European Championships and the World University Games in the summer."
The University of Bath was the first UK university to offer sports scholarships and today 56 student athletes who have displayed potential for success both academically and athletically are currently benefiting from our scholarships – including 23 new scholarships awarded during the 2016-17 academic year.
Team Bath's Dual Career programme is also now accepting applications for the 2017/18 academic year.