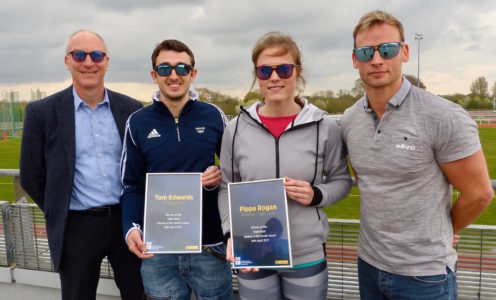 Fencer Tom Edwards, athlete Pippa Rogan, international hockey player Liam Sanford and Junior World Bobsleigh Champion Mica McNeill are the latest winners of the Team Bath athlete of the month awards.
The awards, which are supported by REVO Eyewear and city-centre opticians Ellis & Killpatrick, showcase the depth of talent across a range of sports at the University of Bath.
Sport & Exercise Science Masters student Edwards, who graduates in July, took the accolade after rising to number one in the British Fencing epee rankings.
"I wasn't expecting this at all, it is such a hard award to win when you consider the level of sporting achievement here," said Edward, who is supported by a Santander Sports Scholarship and the Team Bath Dual Career Programme.
"It is a real honour and a nice way to top off my time at University."
Rogan, who is coached remotely by Steve Chapman and supervised in Bath by Colin Bovell, was recognised after winning high jump gold for the University of Bath at the BUCS [British Universities' & Colleges Sport] Indoor Championships, just a week after claiming bronze at the British Indoor Championships with a new personal best.
The award was the perfect boost for the Sport & Social Sciences fourth-year student ahead of this weekend's BUCS Outdoor Championships, where she will be looking to retain the title she won 12 months ago.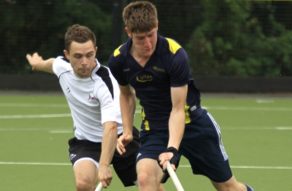 "I couldn't believe it when I was told I'd won the award, it was a really great surprise," said Rogan.
"It's been a good year so far. Finishing third at the British Championships gave me a real confidence boost ahead of BUCS Indoors and even though I wasn't feeling well there I was able to get the gold.
"I'm looking forward to the outdoor season now. I'm focusing on the British trials in July but this weekend's BUCS Outdoors will be a good chance to see where I am and obviously it would be nice to defend my title."
Team Bath Buccaneers Hockey Club player Sanford was unable to collect his award in person as he has flown out to Malaysia to represent Great Britain in the Sultan Azlan Shah Tournament.
It will be the latest step on the international ladder for the rising star, who has been added to the national centre training programme and made his England senior debut against South Africa in March.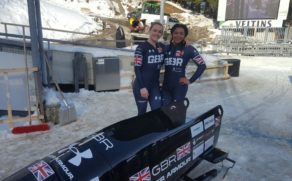 McNeill is taking a well-earned break from training after a highly-encouraging winter season as British Bobsleigh's number-one female driver, which culminated in her winning Junior World Championship gold with Mica Moore.
Each of the winners receives a piece of REVO Eyewear from the Ellis & Killpartrick store in New Bond Street, Bath.
Tyron Dawkins, Brand Manager for REVO, said: "It's always great to come back to the University of Bath and meet such talented sports people. The level of achievement never ceases to amaze and impress.
"A massive congratulations to all of the athletes of the month from REVO, Menrad Optics UK and Ellis & Killpartrick Opticians."
Follow REVO on Twitter and Instagram @Revo_uk and like them at www.facebook.com/RevoSunglasses
Pictured top: (From left) University of Bath Director of Sport Stephen Baddeley, Tom Edwards, Pippa Rogan and REVO Brand Manager Tyron Dawkins.