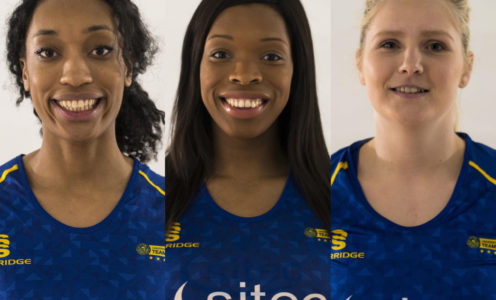 Captain Eboni Beckford-Chambers, defensive partner Layla Guscoth and goal-shooter Chelsea Lewis are the first Team Bath Netball players to officially sign up for the 2018 Superleague season.
Beckford-Chambers and Guscoth forged an outstanding partnership during the 2017 campaign, which saw the Sitec-sponsored Blue and Gold concede the fewest goals of any franchise in the competition. Both were shortlisted for the Vitality Superleague Player of the Year award.
"I am delighted to have signed to Team Bath for the 2018 season," said Beckford-Chambers who, away from the court, is a trainee solicitor in dispute resolution at Bath law firm Mogers Drewett.
"I am very much looking forward to building on the promising performances of 2017 and reigniting my partnership with Layla in defence. It is always a special feeling to play at the 'Bath tub' in front of our Blue and Gold fans and I can't wait for the season to get underway!"
Guscoth, who is a doctor at the Royal United Hospital in Bath, helped Team Bath finish fourth overall in 2017 and was named as coaches' player of the year after an impressive debut season.
Welsh shooter Lewis was the sixth-highest Superleague scorer this year with 534 goals and boasted an 85.4% conversion rate – a fine return considering she also played at goal-attack in many matches.
Director of Netball Jess Thirlby was pleased to get the 2018 recruitment process off to a strong start, saying: "For Eboni, Layla and Chelsea to re-sign is a huge boost and testament to the unique environment that Team Bath provides.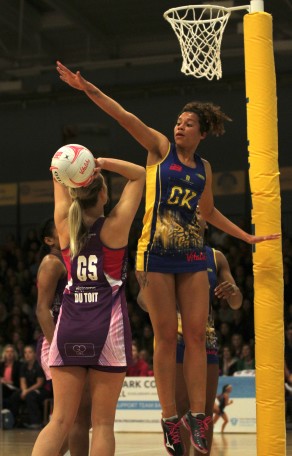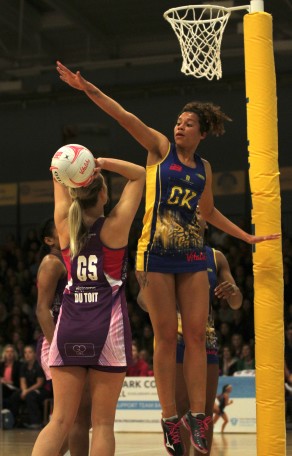 "All three have been pivotal to the Blue and Gold in recent years and it was important to secure their services again. We place huge value on retaining as many athletes as we can from one year to the next and know how important continuity is if we are to achieve our target of winning the league.
"Eboni and Layla were outstanding last season and we are excited to see them reunite in 2018, while Chelsea has become a linchpin for us in the shooting circle and has developed her game hugely."
One player who will not be wearing Blue and Gold next season is Samantha Cook, who is moving on after 13 years of loyal service.
Having taught netball at Downside School near Bath last year, Cook's new teaching role at Haileybury School in Hertfordshire means she is moving away from the South West.
The athletic defender, who came through the Team Bath performance pathway and was instrumental in the 2013 Superleague win, is a big crowd favourite and was voted as supporters' player of the year in both 2015 and 2017. She has also represented England across all age groups, winning 12 senior caps.
"It's going to be very strange not being part of Team Bath but it's also an exciting opportunity," said Cook.
"It wasn't an easy decision because I have been with Team Bath for my entire netball career but I thought it was time to go elsewhere and take on a new challenge.
"The Superleague win in 2013 was my biggest playing highlight but when I look back it's about all the people I have got to play alongside. I have made a lot of friends here in Bath who I will miss seeing all the time but I will definitely be keeping in touch with them.
"The Sports Training Village has been like a second home to me as well and I am going to miss that environment. I'm going to miss everything really. If my life brings me back down here in future, I would never rule out coming back to Team Bath."
Thirlby added: "I've worked with Sam since she was 13, both in a club and Superleague environment, and it's sad that we have to say goodbye but it's important to recognise and celebrate her time with us.
"She came up through the ranks here and I was fortunate enough to be part of the England coaching team to witness her first senior cap in Jamaica.
"Sam is a hugely talented player who has had to fight back from injury at times and we have been proud to have her as part of our team for so many years. We all wish Sam the best of luck in her new teaching job and in her netballing endeavours in the future."
Team Bath's senior squad will next be in action at the first-ever British Fast5 All-Stars competition, taking place at London's O2 Arena on September 23 and featuring the top eight Superleague franchises from 2017. Click here for more information and to buy tickets.
Team Bath Netball are sponsored by Sitec, Mogers Drewett are their Education Partners, Centurion Chartered Financial Planners are supporting the team's performance analysis capabilities, Viper 10 are their Sportswear Supplier and Skins provide the team with compression wear.