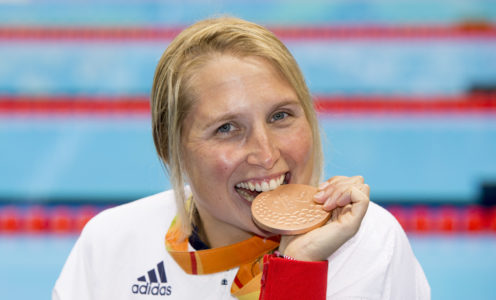 Stephanie Millward set the qualifying time for this year's World Para-Swimming Championships during an excellent opening day for University of Bath-based swimmers at the 2017 British Swimming Summer Championships in Sheffield.
The double Rio 2016 Paralympic champion, who trains in the London 2012 Legacy Pool, won her mixed-classification 400m freestyle final with a total of 892 points and a time of 4:51.11, which was within the consideration standard for the Mexico-bound World Championship team.
Millward's medal was one of six won by Bath-based swimmers on Tuesday, with Sport & Exercise Science student Tom Derbyshire – supported by a British Swimming National Training Centre Scholarship – also winning gold in the men's 19+ 400m freestyle in 3:51.96.
Fellow student and MJ Church ambassador Jay Lelliott, coached by Mark Skimming, took the bronze medal in 3:53.37 and National Centre Bath swimmer Cameron Kurle, a Rio 2016 Olympian, was seventh in 3:58.71.
Three Bath swimmers also raced in a tightly-fought men's 19+ 100m breaststroke final, with Charlie Attwood winning silver in 1:01.12. Chemical Engineering graduate and double Olympian Andrew Willis was fifth in 1:01.55 and Chemistry student Luke Davies seventh in 1:02.21.
National Centre swimmer Georgina Boyle was eighth in the women's 19+ 200m freestyle in 2:02.02 and Sports Performance student Becky Swales clocked 33.08 for ninth place in the women's 19+ 50m breaststroke.
International Development with Economics student Emily Siebrecht, supported by a Santander Sports Scholarship, was sixth in the women's 19+ 400m individual medley in 4:53.51.
She was one of five finalists representing Team Bath AS, the performance swimming club which draws its swimmers from local clubs.
Laura McNab, who represented GB at the LEN European Junior Championships last month, won silver in the 16-years 200m freestyle in 2:02.84 and Stella Cookson took 17/18-years 50m breaststroke bronze in 32.75.
Ethan McNeil (15-years 100m breaststroke) and Dylan Hood (16-years 100m breaststroke) also set personal bests on the way to their respective finals.
Meanwhile, at the FINA World Championships in Budapest, James Guy had to settle for fifth place in a fiercely-contested 200m freestyle final.
The National Centre Bath swimmer, who was sixth in the 400m final, admitted: "I think I got a little bit carried away at the beginning. I got over excited in that initial 100m so definitely a lesson to be learnt – don't go out too fast, it won't pay off and it will hurt at the back end."
Training partner and fellow Olympic medallist Siobhan-Marie O'Connor also said Budapest had provided a learning experience after finishing seventh in the 200m individual medley.
"I knew I wasn't in the shape I wanted to be but it was a test of character and it's going to teach me a lot," said O'Connor, who took an extended break from training after Rio 2016.
Both O'Connor and Guy, coached by Dave McNulty and Jol Finck, will be strong contenders for medals in the relay events along with fellow National Centre Bath swimmers Calum Jarvis and Chris Walker-Hebborn.
Santander Sports Scholar Thomas Tsiopanis, who graduated from the University of Bath in Sports Performance earlier this month, made his World Championships debut on Wednesday morning.
Tsiopanis, coached by Mark Skimming and representing his native Cyprus, sliced nearly two seconds off his own national 200m individual medley record as he clocked 2:05.19 in heat two.
He trains in the London 2012 Legacy Pool which, as well as being home to elite swimmers, is also fully open to the public. Information on opening times and prices are available at www.teambath.com/swimming.