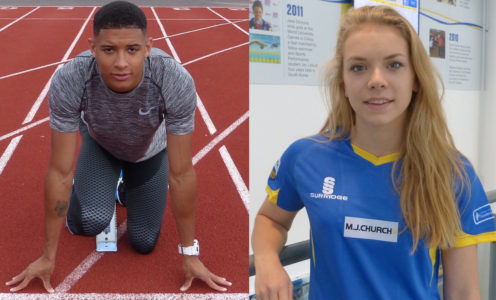 Another six University of Bath-based athletes representing four nations in three different sports will be heading out to Australia in April to compete in the Gold Coast 2018 Commonwealth Games.
Sprinter Leon Reid has been named in the Northern Ireland athletics squad, while MJ Church ambassador Anna Hopkin, Jessica Fullalove and Cameron Kurle are in the second wave of swimmers selected by Team England following last month's trials.
Economics and Mathematics student Jessica Li, coached by Peter Bush at the Sports Training Village, will represent the Isle of Man in badminton, while Emily Temple-Redshaw – who accesses weekly training sessions with Bush through the Team Bath Futures programme – has been named in the Jersey team for the Games, taking place from April 4-15.
Reid ran well inside the 200m Commonwealth qualification standard three times last season, including the final of the British Championships where he won bronze in a new lifetime best of 20.38secs.
His selection was confirmed this week and he is now looking forward to competing at his second Commonwealth Games, although he is hoping for a smoother build-up than he experienced before Glasgow 2014.
"Someone ran into me before Glasgow and I broke my cheekbone and nose," he recalled. "I injured my jaw too so I was on a soup diet for six weeks – not the best preparation!
"I'm feeling in good shape at the moment. We've had to bring all the training forward because we would usually look to peak around July or August but obviously this year we need to be ready for April. It's going to be interesting to see how everyone comes out and races so early in the season.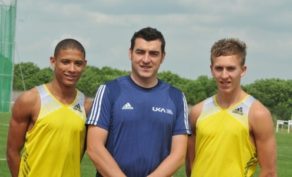 "My target for the Commonwealths is a top-eight finish but I want to be in and among the medals."
Reid is the latest member of James Hillier's training group to be selected for the Commonwealth Games, joining Sports Performance student and Thompson Education Trust sporting scholar Cameron Chalmers (Guernsey) and MJ Church ambassador David King (England) on the plane.
He will also be cheered on in the Carrara Stadium by his mother, Claire Russell, who is a Teaching Fellow in the School of Management at the University.
"We are only across the campus from each other but she doesn't get to see me race very often, so I'll be excited to see her there," Reid added.
All set to experience her first Commonwealth Games is Sport & Exercise Science student Hopkin, who has a big few months coming up in and out of the pool.
"I've got my final exams and dissertation this summer but I'm sure I'll be able to figure out how to fit it all in!" said Hopkin, who is supported in her dual careers by Team Bath partners MJ Church and a Thompson Education Trust scholarship.
"I found out I'd been selected the week before Christmas, which was a nice early present. I've only done the World University Games [WUGS] before in terms of big international competitions and this will be the first major senior team I'll have been on, so it's exciting."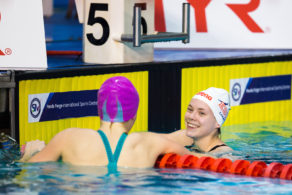 Hopkin, the reigning British and English 50m freestyle champion, has been picked for the relays but is hoping to race in the individual events too. She is the second member of Mark Skimming's training group to be selected – Integrated Mechanical & Electrical Engineering student Miles Munro will represent Guernsey on the Gold Coast.
"I've never been to Australia before and it should be a great venue," Hopkin added. "It was good to have WUGS last summer as that was my first time outside Europe, so I've had that experience of a long-haul flight and dealing with jetlag. Hopefully that will help."
Both Kurle – a Sports Performance student and Rio 2016 Olympian – and Fullalove, who have also been selected by Team England following last month's trials, are part of the British Swimming National Centre Bath squad based at the University. Training colleagues James Guy, Siobhan-Marie O'Connor and Andrew Willis were among the first group of English swimmers to be selected in October.
Eighteen sportspeople who train at the University of Bath have now been officially selected for the Commonwealth Games. Olympic and World medallists Emily Diamond (England) and Eilidh Doyle (Scotland) will also compete in track and field, as will former World Para-Athletics Champion Katrina Hart (England) and emerging young high-jumper Tom Gale (England). Shooter Kristian Callaghan (England) and triathlete Vicky Holland (England) will also have chance to add to the medals they won at Glasgow 2014.