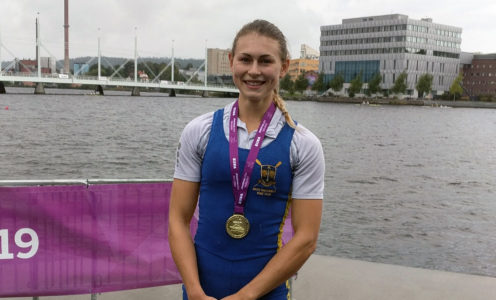 2019 was a year to remember for University of Bath student-athlete Laura Macro as she made waves on the national and international rowing scene.
She struck lightweight women's single scull gold at both the BUCS and Henley Women's Regattas, beating a former World Champion in the latter competition, before triumphing for GB at the EUSA (European University Sports Association) Rowing Championships in Sweden.
The Sport & Exercise Science student, coached by Dan Harris on the GB Rowing Team World-Class Start programme at the University, has also started the 2019-20 season strongly with a top-three finish at the first GB selection trial.
Here, Laura – who is supported by a Santander Sports Scholarship – reflects on the progress she has made during 2019, both on the water and with her psychological approach to elite-level sport thanks to the support of coaches and support staff at the University of Bath.
"The whirlwind of the 2019 racing season was doubtlessly the most exciting of my rowing career to date. I had some epic, extremely challenging races; raced and chatted with current World Champions; and had the opportunity to race internationally on two occasions both for GB and the University of Bath.

"I'm massively grateful for the funding from the Elite Athlete Fund for my trip to EUSA in Sweden, which I couldn't have done without their help.

"In the space of a year I feel as though I have gained more insight than I have in the rest of the almost 10 years I have been in this sport. It has been one which has meant a lot more to me than simply the elation of crossing the line first. Although that is a feeling I remember very fondly, and along with my team-mates will continue to strive with the hope of experiencing again, there were a few personal triumphs along the way which I feel, fingers crossed, will feed positively into coming years.

"One aspect I feel is important to talk about is the amount that being an elite athlete can feed into other parts of your life. I've previously experienced the setbacks of injury and witnessed its effects on others around me – fortunately the psychological impacts of this are becoming more freely discussed.

"However even with this aside, I hadn't foreseen how easy it could be to let sport overshadow every fragment of your life. In ways it's not surprising – when you are essentially trying to craft yourself into an ideal 'machine' for your sport, it becomes routine to overthink every decision you make. I realised the point where this isn't sustainable.

"This led to lots of work on self-management and successfully being able to juggle training load with other aspects of life. Thanks to the support of not only my personal coaching/training environment but also that of staff within the University, such as psychology sessions with James Lambdon, I began to appreciate that without keeping the mental aspects 'healthy' too, it's hugely difficult to make the most out of all the hard graft put into the physical side.

"Knowing this, everything started to make more sense. This really aided my ability to push myself to new heights this year – I learnt an enormous amount about how I tick on race day and what things I need to keep me pushing on with training, each and every single session.

"Another area that I've had to come to terms with (and often as my coach Dan could vouch for, in a very unwilling fashion) is the importance of belief in oneself. I've also had to learn acceptance of the occasions – be it one race, one day or more – where things just don't go perfectly.

"Not long ago I could mentally bully myself about those occasions for so long the clock would get tired of ticking. This year has taught me to accept the initial, unavoidable emotions; dust myself off, reflect and spend that valuable time working on how to avoid it happening again. Cliché as it sounds and easier said than done, but any kind of attempt is better than none!

"In contrast, I found there's a fine balance of knowing the times to be honest and stubborn with yourself when you know there was is a little more you could give. A perfect anecdote I can recall is from my early secondary school years of cross-country running. Coming into the final couple of hundred metres of the race in a podium position, feeling understandably a bit worse for wear and perhaps never having pushed myself to that limit before, I stopped, clinging onto the rails and exclaimed to my poor dismayed mother that 'I can't do it'. Safe to say it cost me, and I ended up finishing fourth.

"There might be plenty of times where similar things could cross one's mind and I'd certainly be lying if I said that had never happened to me this year. Fortunately, I have progressed since then (or else I wouldn't be writing this!) but coming into 2019 I was still troubled by self-doubt.

"Self-assurance has never been my strong suit, and simply getting better results didn't do anything to fix that – it came from something a bit more profound. After all, what was I doing this for in the first place? It's easy to place external pressure upon yourself and be pressed by motivations which are not really your own, and sometimes even not there at all. I found it incredibly important to take a step back and consider what it was about doing this that really excited me, and what got me hooked all those years ago.

"I had to make sure this sport was always going to be something that enhanced my life, not restrained it; and this gave me that smidge of extra purpose and grit to push through if those dreaded words …'I can't do it' tried to haunt me again."