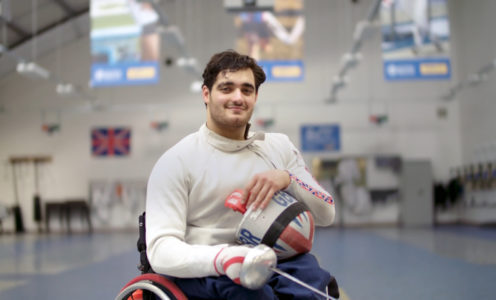 They might not have been able to compete for more than a year but multi gold-medallist Dimitri Coutya believes the world-class training environment at the University of Bath has kept the GB wheelchair fencing team in good shape for success at the rescheduled Tokyo 2020 Paralympic Games.
It was 53 weeks ago that Coutya and fellow World Champion Piers Gilliver were last able to test themselves on the international IWASF circuit before competition was suspended due to the Coronavirus pandemic.
They have been able to maintain a high level of sparring practice since July, though, after returning to training with the hugely-successful EIS World-Class Wheelchair Fencing Programme – based at the Team Bath Sports Training Village since 2015 – under the government's Elite Sport Protocol.
And with exactly six months to go until the Paralympic Games are scheduled to begin on 24th August, Coutya is confident he will return to competition an improved athlete.
"I'm really happy with how we have adapted over the past 12 months, we've managed to get some good work done given the situation," said Coutya, a Rio 2016 Paralympian who won three World Championships titles in 2017 and 2019.
"The team and everyone supporting us has been really flexible and adaptable, which has helped us massively.
"We have increased training to five days a week and the Athletes' Lounge in the Sports Training Village has been adapted to provide us with our own dedicated training area. That has allowed us to work through our training blocks as effectively as possible, each of us focussing on different areas, and we can really see improvements in all of us.
"Obviously it was frustrating when the Paralympics were postponed but it was definitely the right thing to do. I see it as an extra year of preparation, the chance to work on all the areas I wanted to improve and make sure I am as ready as possible.
"Our last competition was in Hungary just over a year ago and it has been quite a challenge not being able to test ourselves during that time. Sparring is so fundamentally important in this sport, competing against other people is how you improve, but tournaments are also where we get to see what other athletes are doing as well and how they are progressing.
"We have been trying to replicate competition standard in training and then prepare not only for when we are allowed to compete again, which will hopefully be the European Championships in May, but also for Tokyo."
Coutya says that having a fellow World Number 1 in Gilliver as a training partner, along with talented GB wheelchair fencers Oliver Lam-Watson and Shah Rashid, has really come into its own during the past year. He is also grateful for the guidance and experience of Lead Coach Peter Rome, who was named as High Performance Coach of the Year at the 2020 UK Coaching Awards.
"I feel like we have made so many improvements since coming back to training in July, my training group and Peter are really good at pushing me to be the best I can be," added Coutya, who competes in the Category B epee and foil.
"Peter has been integral to our success over the past few years and his understanding of the sport is so good, everything from fitness to technique and tactical application. Having a friend like Piers to train alongside as well has been so important, particularly over the past year. It ensures the training environment is of a world-class standard and we are constantly helping each other to improve and push on."
A typical training week at the Team Bath Sports Training Village for the wheelchair fencing squad involves sparring sessions plus cardio work on the indoor and outdoor athletics tracks, as well as strength and conditioning training in the high-performance gym.
"The support that Team Bath, the EiS and UK Sport have given us has been outstanding," said Coutya. "Everyone has adapted to the changing demands of the past year and that has allowed us to continue training full-time and to a very high standard. We could not have done it without their support."
The GB wheelchair fencing squad hope to return to competition in May when the European Championships are due to take place in Eger, Hungary. IWASF World Cups are scheduled in Brazil and Poland during the summer before the Paralympic Games begin on 24th August, with the fencers among the first athletes in action.
Coutya and Gilliver, who won Category A epee silver at Rio 2016, will be looking to add to the host of medals won by University of Bath-based sportspeople at every Paralympic Games since Sydney 2000.