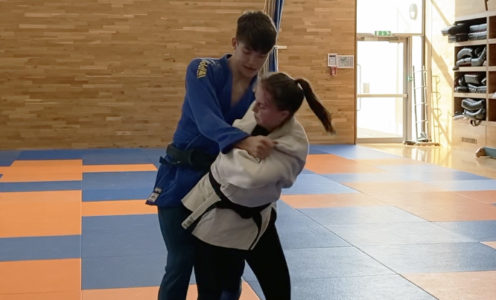 Imagine you are a 16-year-old who has just completed your GCSEs and are considering what to do next. At the same time, you are a talented sportsperson who has competed at regional or national level and would like to see whether you have the potential to go even further.
Finding a way to pursue both your sport and education to a high level can be tricky but Team Bath Judo is part of a hugely-successful scheme which does just that – and provides another avenue to studying at university.
Team Bath Judo has been delivering the Diploma in Sporting Excellence (DiSE) programme for a number of years now. Open to 16-18 year olds who are in sixth form or college, the Government-funded scheme operates across a selection of sports, including judo, and allows participants to enhance their athletic development while earning a prestigious recognised qualification which is worth 64 UCAS points.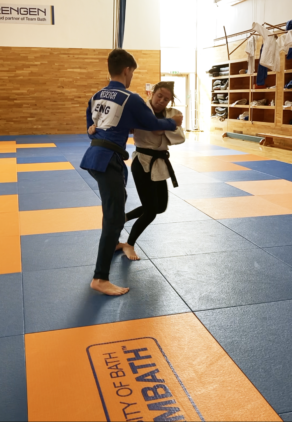 Residential camps during school holidays
Adam Hall, Head Judo Coach at Team Bath, said: "The DiSE programme has tremendous benefits in not only increasing the training volume of promising young judoka but also encouraging them to stay in education.
"We run the course as residential camps in and around the school holidays, so it doesn't impact too much on their wider educational learning and also so students can travel from further afield. We have students come from the North West and North East, all over England, to train and study with us, and I hope that says a lot about the standard of the course we offer.
"Our camps are set up to replicate what it is like to be a student-athlete. They will usually train in the morning with our high-performance squad, then have lectures and theory-based classes before training again in the evening. We're also lucky at Team Bath that we have sports psychologists, sports science practitioners and athletes from other sports who can come in to talk to the students.
"The course is made up of modules like strength and conditioning, psychology and goal setting, things like that. For me the module that illustrates how useful the programme is is called 'exit routes' and looks at life after sport, about the importance of staying focussed on your education and planning for the future.
"Assessment is by coursework, with the students producing a portfolio of work that is marked by our team and independently verified by SGS College in Bristol, our main educational partner for DiSE.
"The great thing this year is that England Judo has brought the DiSE programme into their pathway. The programme has been really successful and we are really starting to build momentum in terms of recruitment to the University of Bath too, with five of the 2019 intake now students here."
'This place is amazing'
Among that intake is second-year Sports Performance student James Reseigh, who wasn't considering going to university until he took up the DiSE scheme.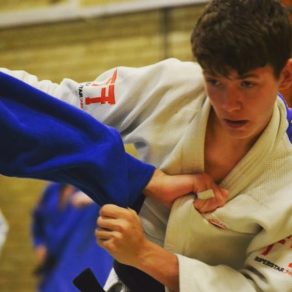 "The plan was to finish college, where I was studying a Level 3 Sports Diploma, and go into full-time work but as soon as I came to Bath for the first time for DiSE I thought 'wow, this place is amazing'," said James, who has been in the England judo squad for the past seven years.
"I'm from Peterborough and the closest course was in Cambridge but it involved travelling for training sessions every Wednesday which didn't fit into my college timetable. The three-day training camps during school holidays made Bath more accessible, so that's how I ended up here. I didn't know much about Bath as a training venue or university but as soon as I walked into the Sports Training Village I was blown away, I'd never seen a place like it.
"When I found out they did the Sports Performance course here as well, I decided that's what I wanted to do. I wasn't too sure if I would get the grades I needed to come to university, I wasn't an A or A* student, so those extra UCAS points that come from completing the DiSE scheme were really good to have.
"It was always my dream to train in judo full-time, I love the sport, but I could never really work out a pathway to doing it before I started DiSE. Now I have access to a full-time training programme while also gaining a university education."
'Incredible opportunity for a young athlete'
Second-year International Development with Economics student Sidney Tancock is one of a host of judoka from Bishops Stortford who have made the long journey to Bath for the DiSE programme over the years.
"My coach, Nicole Nunn, said it was a good opportunity to increase my judo training and get a diploma at the end of it," recalled Sidney, who is a welfare officer for the University of Bath Judo Club.
"We would travel on the train down to Bath and spend a few days away from home on the camps. It gave me a sense of independence. I remember the first time I got to Bath and saw the city, saw the facilities, just thinking 'wow, I love it here!'.
"We learnt a lot about sport as a whole and about ourselves, about how to be a healthy athlete and how we can improve as a judoka but also how you can balance education and sport. We didn't just learn from other judo players, I remember England Women's Rugby player Sydney Gregson, who was a student in Bath at the time, talking to us about her experiences.
"The biggest takeaway from me was the sense of what it is like to train full-time while also pursuing an education. We also got to train alongside Olympians in a high-performance environment and that was an incredible opportunity for a young athlete. I also got to know judoka of my age from across the country and make new friends in the sport.
"I always knew I wanted to go to university and being able to continue my judo training was going to be a big part of where I went. I didn't really know about Bath before I joined the DiSE programme but coming to train here gave me a chance to look around the campus and experience the facilities. When I found out they did an International Development course, I knew exactly where I wanted to be."