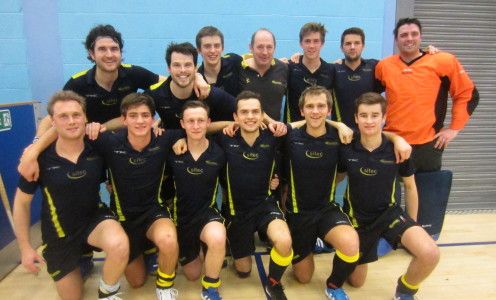 As the Indoor Hockey season comes to a close University of Bath's Hockey Development Manager Nick Kendall reflects on a successful term for Team Bath Buccaneers' men.
Team Bath Buccaneers' men secured their fourth promotion in 13 months when they reached the Indoor Premier League in January 2014, something that wouldn't have been possible without the support of the university.
Nick Kendall feels it has been a mutually productive relationship for the university and Team Bath Buccaneers. "Students that are applying for university that are keen hockey players will look at who they are going to be playing hockey for as well as which degree they're going to do.
"One of the weaknesses Bath had in the past was that hockey players would choose to study somewhere they could play a better standard of hockey. Buccaneers were able to provide that good level of hockey for the University, which encouraged people to come to Bath and the more that happened the more that standard improved.
"We've now got a situation where it's a win-win. University of Bath has a good reputation for hockey, and one helps the other.
"What the University have done for Buccaneers, which they wouldn't have been able to do on their own, is provide the facilities… we now have the best two pitches in the area.
"With Team Bath Buccaneers having access to the performance unit, the strength and conditioning and the rest of the facilities at the Sports Training Village, that's something that other clubs don't have.
"So it's a win-win for the club as they've got a steady recruitment of students and the facilities, and the university has a recruitment tool in the form of a decent standard of hockey."
Team Bath Buccaneers is approaching its 60th birthday and a lot has changed since it was founded as Bath Civil Service Hockey Club in 1955.
The team came close to English league status in the mid-nineties, but fell short of national competition in the play-offs.
This marked a turning point in the club's thinking. With a successful merger with Bath Ladies in 1996, the club was growing and needed to improve its facilities in an attempt to play at the top level.
It was then that an agreement was struck with the University of Bath to bring Buccaneers under the Team Bath umbrella, allowing the club to use the top facilities at the multi-million pound Sports Training Village.
Alongside that the University hired a head coach to lead both the University sides and the Team Bath Buccaneers. The man to take up that role was England international Bobby Crutchley.
As a player, Bobby won 80 caps for England and Great Britain, winning Gold at the 1998 Commonwealth Games in Kuala Lumpur. His club career saw him play at home in England, as well as in Italy and Australia, winning league titles and achieving top scorer status in all three countries.
There was no doubting his pedigree and there was reason for Team Bath Buccaneers to be optimistic, as Nick explains.
"Up until then, every year was a new adventure. The University would find a new coach each year on an amateur basis, so that was quite a big move. Out of the blue Bobby Crutchley applied and he retired from playing international hockey straight away to devote himself to the job."
Within three years the team reached the English Hockey League play offs. In the 2003/4 season, the club were promoted to Premier Two, finishing second. Bobby's influence had been a hugely positive one and the club was moving the in right direction.
"Around him," says Nick, "his public image and his coaching ability, the hockey club really took off. He took the University men to the BUCS final – we've only been there once since – he took Buccaneers men into the national league and the University club grew from just one or two men and ladies sides, to the four or five that we have today. The Team Bath Buccaneers teams too, with the ladies getting into the national league."
Bobby left Team Bath Buccaneers to take on a full time role with England Hockey in 2005 as a coach in Jason Lee's staff. In 2013 Crutchley became head coach of England men's team and in January 2014 led them to Bronze at the inaugural Hockey World League Final in India.
Bobby was replaced the following season by South African international, Jody Paul, offering students and club members another excellent opportunity to learn from leading figures in the hockey world.
The club are currently in the second tier of outdoor hockey, but it is in the indoor format that we have seen most success with the men this season securing a place in the Premier League.
Their fourth promotion in 13 months, the Team Bath Buccanners will be taking on big names like East Grinstead and Beeston as they look to survive their biggest test next season.
The indoor Premier League is played during December and January, with the top four teams going through to the National Championships at Wembley arena at the beginning of February. The two finalists qualify for Europe the following season.
For a team cobbled together just over a year ago, with some players in the team never having played indoor hockey before, this rapid rise is a fantastic achievement, but Nick doesn't want to stop there.
"Tim Davenport and Tom Skinner the goalkeeper have been the main drivers. Those two guys not only played, but have also been coaches. The make up of the team is quite interesting. You've got people like Tom Skinner who is an experience goalkeeper who just happened to move to the area and gave us a call, while Tim Davenport is an ex-student, both experienced indoor. Then you've got students like Nik Rieger [German under 21 international].
"Sam Hatherley and Ben Mackey are England under 21 outdoors internationals who both played a little bit of indoor hockey in their school days. Josh Mardell is a student. He's come from Wycombe and they've always played indoor hockey so he's come with some experience which is fantastic.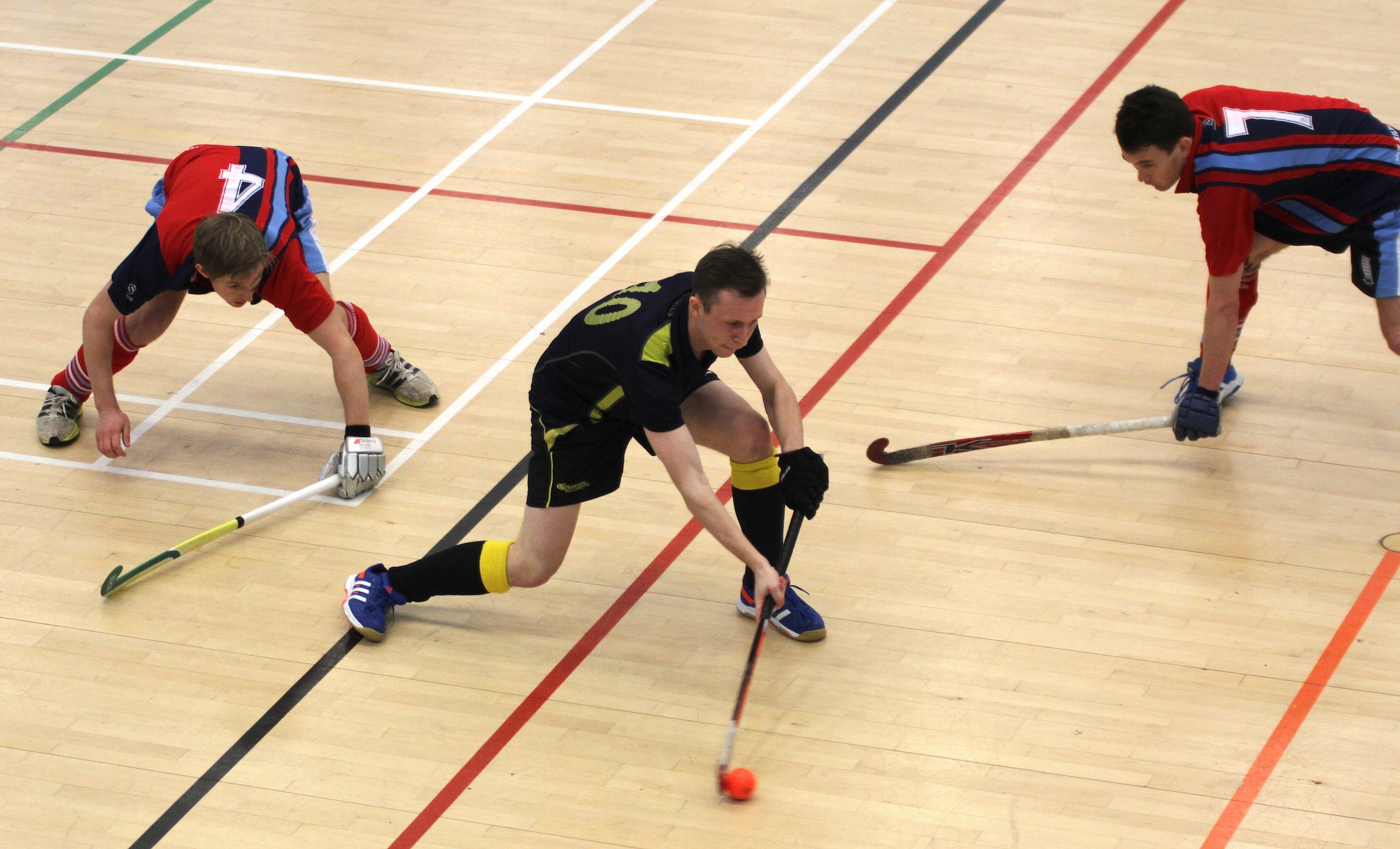 "Then we've got three who have come up through the junior ranks. Ed Horler, who has been at Buccaneers since he was 11, Will Seward who is an England under 18 international and Ben Stone who has been here since he was 12 and is a very good indoor player. Then there's Shaun Matthews, a New Zealand A international who has played a lot of indoors. So suddenly you get a squad that's quite a diverse group of people. It's a good advert for Team Bath Buccaneers because it has a junior element, a student element and a non-student element, which is exactly what I'd like every team in the club to be like."
It all sounds very impressive, but the players, the coaches and Nick all know it won't be easy.
"The step up is going to be huge. They are the powerhouses of indoor hockey in the country. There's East Grinstead, who win it more often than not and do pretty well in Europe, you've got Reading who are very strong, Beeston who are the national outdoor champions and again are very strong and then you have Canterbury and those four, if you look at the tables, they're fighting it out at the top and the other five try to avoid relegation.
"We've got a basis now to move forward. We've got to get the ladies up there now. They've dropped out of indoor hockey, but with the facilities here hopefully we can do something similar with the ladies – there's no reason why not."
And Nick and the coaches are on the look-out for players to help with that.
"What Team Bath Buccaneers and the University hockey teams can offer is the best training facilities around, with prime training and game times. We have more training time that I would think almost any club in the country, so there is training and coaching there that not many other clubs can provide."
With such great facilities here at Team Bath, there are many opportunities to get involved with hockey. The University currently have 5 men's teams in the BUCS championship and a sixth team plays friendlies, while the women are now running four teams in the BUCS championship. On top of that there are over 200 members of Team Bath Buccaneers, running 10 men's teams, 6 women's, one mixed team and a variety of juniors.
And there has been success for the indoor juniors this season too, with the boys and girls at under 18 and under 16 level respectively, both reaching the semi-finals of the England Hockey Junior Clubs Indoor Cups. With talent like that in the pipeline, the future is looking good for Team Bath Buccaneers.
If you're interested in playing for the University student teams, or in joining the Team Bath Buccaneers squads, just visit our Team Bath hockey pages. You don't have to be a student or an elite player, Team Bath Buccaneers are open to the public too. With players ranging from from the ages of 5 to 65 playing each week, senior membership is split 50/50 between students and non-students. Team Bath Buccaneers are actively looking for more senior members so get in touch today and join a winning team with hockey at the University of Bath.