A magnificent seven University of Bath students and graduates are heading to Taipei to represent Great Britain at the World University Games, taking place from August 19-30.
Three coaches and a physio are also part of the British Universities & Colleges Sports [BUCS] support staff for the world's second-biggest multi-sport event after the Olympic Games, featuring almost 10,000 athletes from more than 170 countries.
Defending gold-medallist Jay Lelliott, an ambassador for Team Bath partners MJ Church, and British Champion Anna Hopkin have been selected for a strong British swimming team coached by Mark Skimming.
Head of Tennis Barry Scollo will once again coach and captain a tennis team featuring Sport & Exercise Science student Emma Hurst and fellow Team Bath MCTA player Luke Johnson, who moved to the Sports Training Village 12 months ago after graduating from Clemson University in the United States.
Sports & Social Sciences students are also well represented in the British squad – current undergraduates Emily Donovan and 10,000m runner Jenny Nesbitt will compete in football and athletics respectively, with graduate Jacob Paul also taking to the track in the 400m hurdles.
Team Bath Strength & Conditioning Coach Corinne Yorston is Physical Performance Coach for the women's football team, while physio Jack Dawkins is part of the British support staff.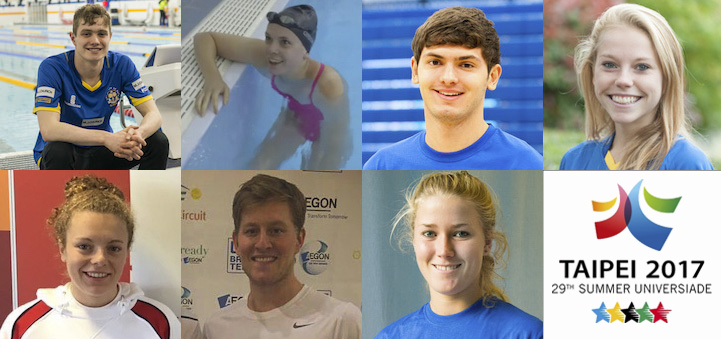 Sports Performance graduate Lelliott is no stranger to the World University Games having won 400m freestyle gold and 800m freestyle silver in South Korea in 2015. He will swim in both of those races again, as well as the 1,500m, and is relishing the opportunity to be back on the world stage.
"I'm really excited to be going again," he said. "I'm feeling in really good shape and looking forward to getting out there and competing.
"I'm the defending champion but I don't see it as a pressure situation, I am just going in there to do my best job. I'm swimming well this season so if I do the times I want to hit that should put me in the mix for medals.
"My long-term goal is to make the 2020 Olympics in Tokyo and put my marker down there. The standard in GB is so high that making the Olympic team means you're in a great place."
Training partner Hopkin will be making her international debut at the World University Games as she races in the 50m freestyle, the event in which she is reigning British Champion, the 100m freestyle and 50m butterfly.
A promising junior swimmer, she took a break from the sport for four years and only resumed her career when she moved to Bath to begin a Sport & Exercise Science degree.
"The University of Bath is the best for my academic course and also one of the top places to swim in the country, so it was a really easy choice to come here," she said.
"The Universiade is massively important for me, I've never competed at an international competition before so it will give me a brilliant experience of competing against different countries and in a bigger arena under pressure. Hopefully it will give me more confidence as well.
"I know the competition is going to be really, really strong so I just hope I can get into a final and then maybe fight for a medal."
all the news and videos University Sports on Video Eurosport
The British tennis team also enjoyed success at the 2015 Games as Business Masters graduate Alex Walker won a mixed doubles silver medal with Darren Walsh.
Team Bath's Scollo was captain of that British team and is hoping for some more impressive performances from the 2017 squad, which features Hurst and Johnson.
"It's always exciting to be the coach and captain of the British tennis team and it's the icing on the cake to have two players from the University of Bath involved," he said.
"It is a very high level of performance competition and we have to thank the Lawn Tennis Association [LTA] and Tennis Foundation for their support, which is really putting performance university tennis on the map in this country. The Tennis Foundation in particular is really supporting university tennis through resources, people and funding."
Four of the Bath athletes competing in Taipei have benefited from scholarship support from the University – Lelliott is a Santander Sports Scholar, while Hurst, Nesbitt and Paul have all received Trendell Sports Scholarship backing.
Applications for the 2017-18 scholarship programme are now being accepted. Click here for more information.