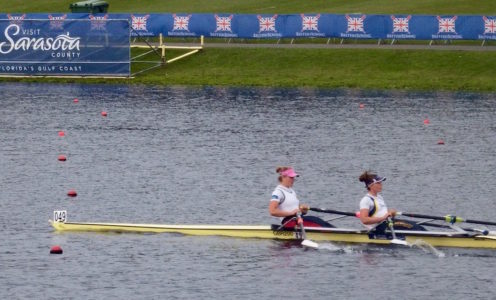 University of Bath rower Sam Courty will make her senior World Championships debut later this month after being added to the GB Rowing Team squad for the event in Sarasota, Florida.
Courty, who only took up rowing while studying Sports & Exercise Science, has been selected in a new-look women's four with Caragh McMurtry, Beccy Girling and Rowan McKellar after recovering from injury.
Fellow graduate Sara Parfett, who studied Biology, has been named as a spare for the women's sweep squad, while Economics graduate Frazier Christie is a spare for the men's squad.
All three developed their rowing skills under the guidance of Dan Harris on the GB Rowing Team Start programme at the University of Bath and Minerva Bath RC.
Courty, who still wears Crew Bath colours while competing in club competitions, has previously represented GB at both the World U23 and World University Championships, winning a silver and two bronze medals. She made her senior debut at July's Lucerne World Cup in Switzerland in the women's pair with McMurtry, finishing seventh overall.
GB Rowing Team Start Coach Harris said: "It's fantastic to see Sam selected in the women's four, I'm really pleased for her and it will be a proud moment to watch her race.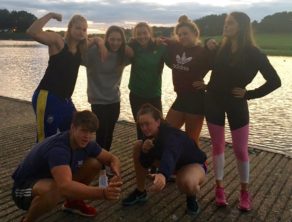 "For Frazier and Sara to be spares is great progress. GB are the best rowing nation in the world, so to make the squad is a huge achievement and will be great experience for them to build on for future seasons."
Rio 2016 silver-medallist Vicky Thornley, who also came through the Bath Start programme, will contest the women's single scull at the World Championships, taking place from September 24 to October 1.
The latest intake of Start rowers from the University of Bath, hoping to emulate the likes of Thornley and Courty, attended their first national training camp of the 2017-18 season in Nottingham last weekend.
Harris is always on the lookout for people who think they may have the skills and physique to be a potential rowing champion to join the Bath programme. Visit www.teambath.com/rowing for further details or email Dan.harris@britishrowing.org for information on testing and trials.
Pictured top: Sam Courty (right) and Caragh McMurtry are both heading to Sarasota in the women's four.