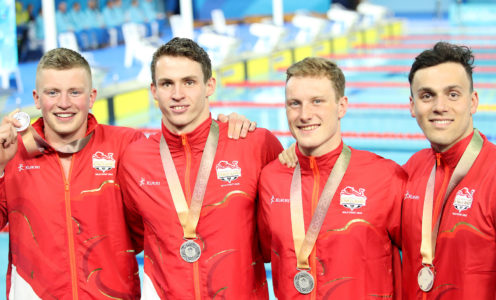 University of Bath-based swimmers will bring home a terrific 12 medals between them from the Gold Coast 2018 Commonwealth Games after adding two more to the tally on the final day of competition in the pool.
James Guy, part of the highly-successful British Swimming National Centre Bath squad that trains in the London 2012 Legacy Pool at the University's Sports Training Village, collected his fifth medal of the week as he helped England claim silver in the men's 4x100m medley relay – only missing out on gold by nine-hundredths of a second after a thrilling tussle with Australia.
That came just moments after Chloe Tutton and her Welsh team-mates had produced a brilliant performance to win bronze in the women's competition, holding off an England quartet featuring Siobhan-Marie O'Connor and University of Bath sporting scholar Anna Hopkin.
The athletics action saw Eilidh Doyle and University alumnus Jack Green progress to their respective 400m hurdles finals, while Leon Reid booked his place in the 200m semi-finals.
Team Bath Netball's Zanele Vimbela also helped South Africa to their second win of the group stages, an emphatic 92-28 success against Fiji.
Here is a round-up of Tuesday's Commonwealth Games action featuring University of Bath-based sportspeople – click here for full news, results and schedules.
Swimming
James Guy capped a busy week in the Optus Aquatic Centre by standing on the podium for a fifth time at the Gold Coast 2018 Commonwealth Games, this time with the England men's 4x100m medley squad that won silver in an outstanding last race of the meeting.
A storming second breaststroke leg from Adam Peaty saw England hold a narrow lead at the halfway stage which British Swimming National Centre Bath swimmer Guy, coached by Jol Finck, extended to half a second after clocking 50.95 in a superb butterfly leg.
Ben Proud then dug deep in an attempt to hold off Kyle Chalmers on the freestyle leg but the Australian edged ahead with the last stroke of the race, the Games-record winning time of 3:31.04 just nine-hundredths of a second faster than England.
"We had a great swim tonight and these boys have done the country proud," said Guy of the England quartet that also included Luke Greenbank on the backstroke.
"Year by year we are getting stronger and faster. The Aussies are on their home turf with this amazing crowd behind them, they're all in tip-top shape, but our season is only in April and we all have much more to give so we can progress onwards from here.
"It's nice to finish on a medal. That's four silvers now and one bronze – it would have been nice to get four golds and one bronze but, considering the start of the week I had and the middle few days, I'm happy with that."
It was Guy's third relay medal of the week, adding to the silvers he won in the 4x100m and 4x200m freestyle events. He was also runner-up in the individual 100m butterfly having begun the competition with 400m freestyle bronze on the opening night.
Also returning to the podium was fellow National Centre Bath swimmer Chloe Tutton, who won her second bronze medal of the week in a Wales 4x100m medley quartet that set a new national record of 4:00.75.
With Australia and Canada clear of the field, it was a battle between Wales and England for third place and an excellent breaststroke leg from Tutton – bronze-medallist in the individual 200m – put her quartet in a strong position at halfway.
Siobhan-Marie O'Connor, the 200m individual medley gold-medallist, was unable to make up ground on Alys Thomas in the butterfly leg and while University of Bath Sport & Exercise Science student Anna Hopkin produced a rapid freestyle split of 54.47, it wasn't enough to prevent Wales taking bronze in a national record time of 4:00.75.
MJ Church Ambassador Hopkin, supported by a Thompson Education Trust scholarship and coached by Mark Skimming, had won 4x100m freestyle relay bronze at the start of the week with O'Connor, who was also part of the England 4x200m freestyle quarter that finished third.
Cameron Kurle was the other University-based swimmer to medal at the Games, winning silver alongside training partner Guy in the 4x200m freestyle relay.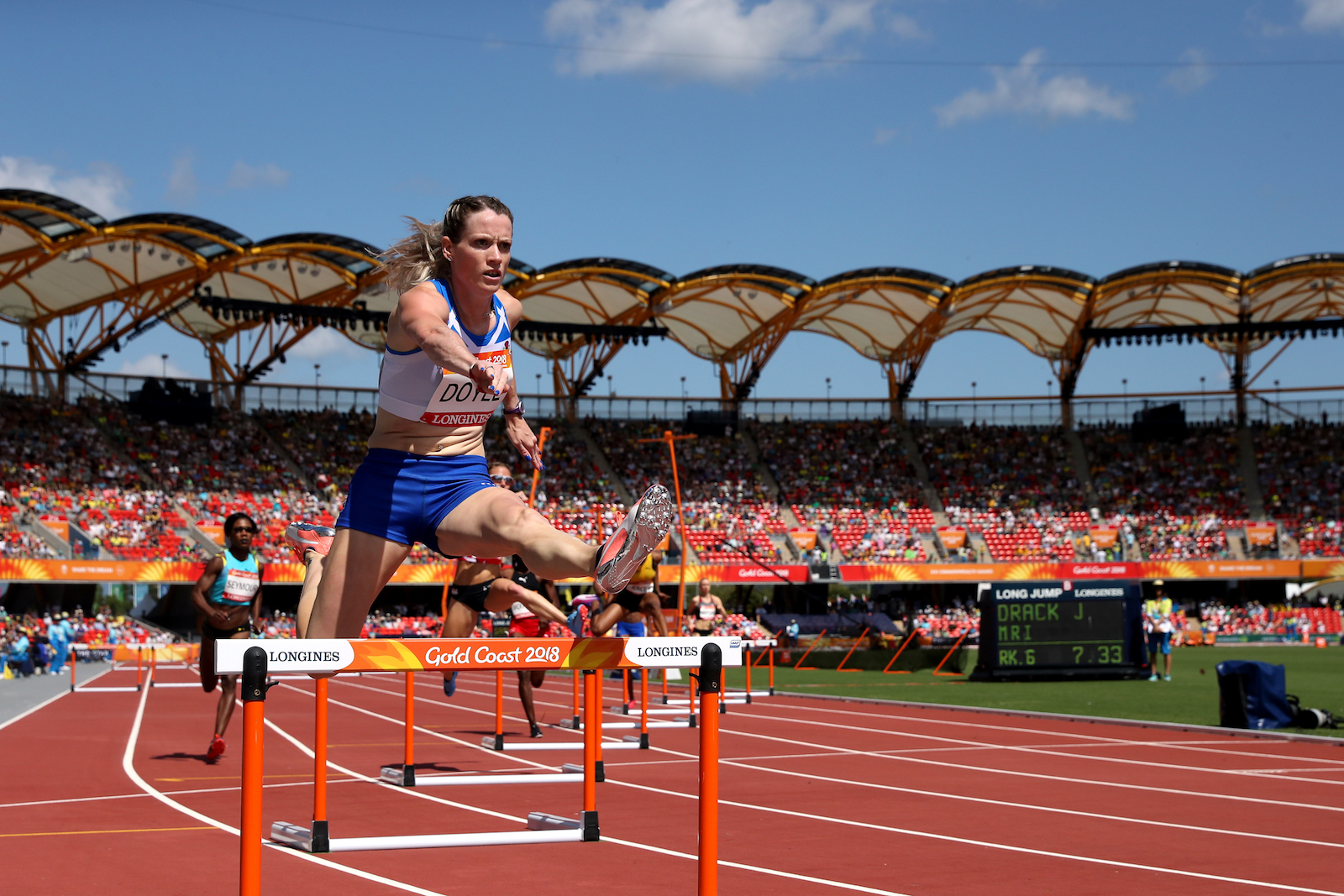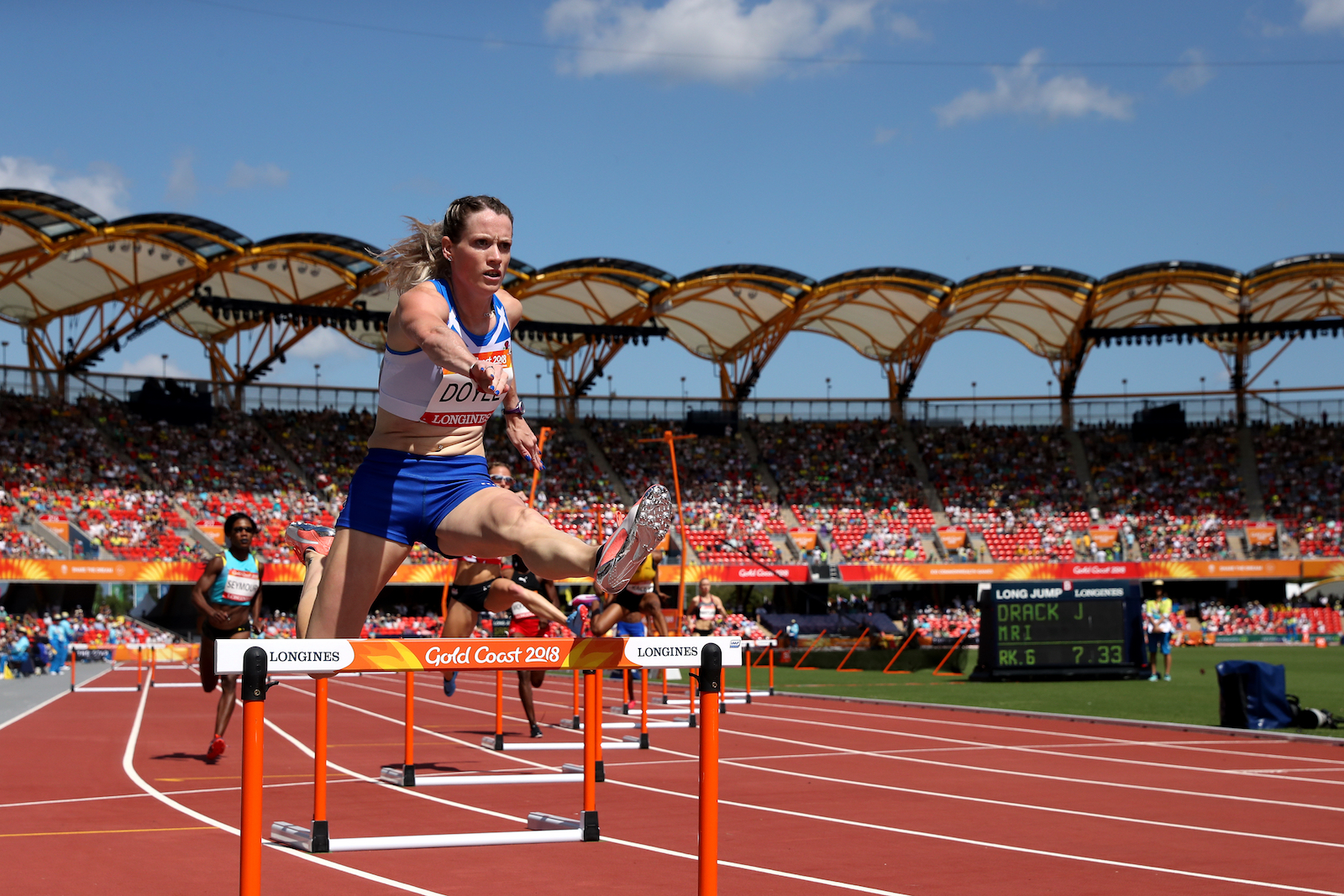 Athletics
Eilidh Doyle put herself firmly in contention for a third Commonwealth Games medal of her stellar career as she eased into Thursday's 400m hurdles final with a fine victory in her heat.
The Team Scotland flag-bearer, coached by Brian Doyle at the University's Sports Training Village, produced a controlled performance from the outside lane to take the win in 54.80.
"It was good to get the race in the bag and my nerves out of the way," said Doyle, whose hurdles silvers at Delhi 2010 and Glasgow 2014 are among 15 medals she has won at senior major championships.
"I would love to win gold, I need to go out and run my best race. If I can execute a good race and leave it all on the track, I'll be happy."
Sports Performance graduate Jack Green will contest the men's 400m hurdles final after finishing runner-up in his heat in 49.24.
Leon Reid, coached by James Hillier at the University and representing Northern Ireland, was runner-up in his 200m heat in 20.73 to book his place in Wednesday's semi-finals.
Emily Diamond, who has won Olympic and World relay medals alongside Doyle for Great Britain, narrowly missed out on a place in the 400m final after placing fourth in her semi-final.
Defending champion Stephanie McPherson of Jamaica dominated the race on a puddle-soaked track and while Diamond was in the battle for the second qualifying spot coming off the final bend, she eventually crossed the line in 52.02 – the ninth-fastest time overall, leaving her just outside the final eight.
"My legs just weren't quite there," said Diamond. "In the back of my mind, I thought if I could get under 52 and try to finish in the top three I might have a chance and I wasn't that far away.
"Two of the girls who beat me ran PBs, so I'd have needed the race of my life and I didn't quite have it today. It's still so early and we have the whole season ahead of us, so it's positive I think.
"With a few more months of training under my belt, things will improve. I'm going in the right direction at least. We can go back, recover and put together a really strong team for the relay."
Netball
Team Bath defender Zanele Vimbela played the full match as South Africa beat Fiji 92-28 to record their second Group A victory at the Commonwealth Games.
Vimbela started at wing defence before moving back to goal keeper in the second half, partnering former Blue & Gold star Karla Pretorius (nee Mostert) as the SPAR Proteas restricted Fiji to just 14 goals in each half.
Team Bath shooter Chelsea Lewis once again started for Wales in their 76-40 Group B defeat to Uganda, converting 34 of her 42 attempts. Pharmacy graduate Amanda Varey also provided 11 assists after playing the last three quarters at wing attack.
The last group games will be played on Wednesday, with England just needing to avoid a heavy defeat to New Zealand in their match at 12.02am BST to secure top spot in Group B. England are currently two points clear of the Silver Ferns with a superior goal average, 1.83 to 1.36.
Badminton
Jersey's Ben Li, who has been training with Head of Badminton Pete Bush at the University to prepare for the Games, progressed to the last 32 of the men's singles competition with a 21-10 21-19 win over Chongo Mulenga.
It was a hectic day for Team Bath Futures athlete Emily Temple-Redshaw, representing Jersey. She partnered Matthew Bignell in the mixed doubles, losing 21-13 21-13 in the round of 64 to Singapore's Guang Liang Jason Wong and Ren-Ne Ong.
Temple-Redshaw was then beaten 21-18 21-11 by Sri Lanka's Hasini Ambalangodade in the women's singles before suffering a 21-9 21-10 defeat to Sinaed Chambers and Rachel Darragh of Northern Ireland in the last 32 of the women's doubles.
Beach volleyball
University of Bath graduates Vicky Palmer and Jess Grimson saw their Commonwealth Games campaign come to an end at the quarter-final stages with defeat to Miller Pata and Linline Matauatu of Vanuatu.