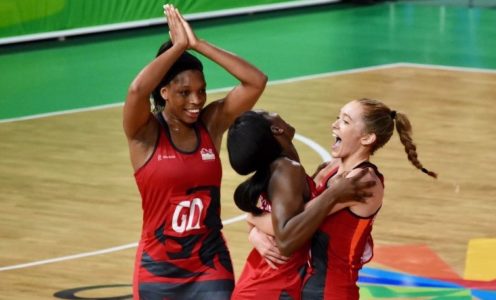 Team Bath Netball captain Eboni Beckford-Chambers helped England record a historic victory over New Zealand and boost their chances of reaching a first-ever Commonwealth Games final at Gold Coast 2018.
Beckford-Chambers had a major impact after coming on for the second half as the Roses extended their narrow 26-24 advantage to a superb 54-45 victory that ensured they topped Pool B and avoided hosts and favourites Australia in this weekend's semi-finals.
University of Bath graduates Kristian Callaghan and Rosie Clarke both narrowly missed out on a medal as they finished fourth in the men's 50m pistol shooting and women's 3,000m steeplechase respectively, while Leon Reid produced a superb run to book his place in Thursday's 200m final.
Here is a round-up of Wednesday's Commonwealth Games action featuring University of Bath-based sportspeople – click here for full news, results and schedules.
England went into their final Pool B game against New Zealand knowing they just needed to avoid a heavy defeat to secure top spot and avoid hosts Australia in the semi-finals.
However, they were determined to progress in style and did just that as they recorded a brilliant 54-45 win – their first-ever victory over the Silver Ferns on the Commonwealth stage.
The teams were level at 12-12 after the opening period and the second quarter was equally tight fought, with England edging into a 26-24 lead at half-time.
Team Bath captain Eboni Beckford-Chambers was introduced at goal defence and, alongside former Blue & Gold star Geva Mentor, helped restrict New Zealand to just ten goals in the third quarter as the Roses stretched their advantage to 40-34.
They kept up the pressure in the final period to secure a historic victory and finish the group stage with five wins from five games.
Blue & Gold attacker Kadeen Corbin is also in an England squad that now faces Jamaica in the semi-finals on Saturday (6.02am BST). It is a repeat of the Glasgow 2014 third-placed play-off, which was won by the Sunshine Girls, and both teams will be looking to reach their first-ever Commonwealth Games final.
Meanwhile, Zanele Vimbela and her South Africa team-mates finished third overall in Pool A after an 85-25 win over Barbados. They now face Uganda in the fifth-placed play-off on Thursday (7.02am BST).
Team Bath's Chelsea Lewis and University of Bath Pharmacy graduate Amanda Varey both impressed for Wales as they produced an improved performance in a 68-53 defeat to Malawi in Pool B.
Wales will look to finish the tournament on a winning note when they face Fiji in the 11th-placed play-off on Thursday (12.02am BST).
Shooting
He may have finished just one place outside the medals in the men's 50m pistol final but University of Bath alumnus Kristian Callaghan is still looking on the sunny side as he competes on the Gold Coast.
The Integrated Mechanical & Electrical Engineering graduate, who still trains at the University thanks to a Team Bath Service Support Grant, scored 541 to qualify for the final.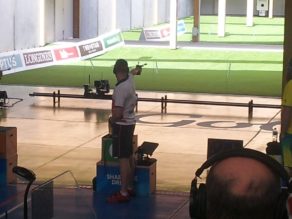 He then survived a couple of scares in the elimination stages to reach the last four, edging through by just 0.2 after the sixth shoot, before having to settle for fourth place with a score of 181.4.
"It was an interesting final and I was nearly eliminated twice so it was a good experience for me and the audience made it a great atmosphere," said Callaghan.
"I'm always aiming for the medals but I just love performing for this shirt. It's the largest and most diverse team to leave English shores so it's brilliant performing for the team.
"It couldn't be any better here – the weather is great, the environment is great, the food is great and the volunteers are great. The venue is fantastic and the range is good."
Next up for Callaghan on Thursday is stage one of the 25m rapid-fire pistol, a competition he won bronze in at the Glasgow 2014 Commonwealth Games.
"I'm confident for the rapid fire and training has gone well," he said. "We need to eliminate any little mistakes but hopefully we'll be in a good place."
Leon Reid, representing Northern Ireland, produced a storming finish to his 200m semi-final to book his place in Thursday's final (12.56pm BST).
Reid, coached by James Hillier at the University of Bath Sports Training Village, was fourth coming off the bend but kept his form to come through the field and finish runner-up to Jereem Richards, the 2017 World bronze-medallist from Trinidad & Tobago, in 20.61.
"I was just thinking 'I'm not going to let this go' and I managed to come through, so I'm really happy," said Reid, who was cheered on by mum Claire Russell, a Teaching Fellow in the School of Management at the University.
"My mum's come all this way to watch me, so I had to pull it out of the bag for her. She's going to be buzzing, I can't wait to go and see her."
Rosie Clarke, who studied Accounting & Finance at the University of Bath, finished fourth in the 3,000m steeplechase final in 9:36.29.
She was in a battle for bronze with defending champion Purity Cherotich Kirui for much of the race before the Kenyan managed to pull away on the last lap.
"It was a great race to be part of," said Clarke. "This is what we do all the training for and I just enjoyed every second out there – it hurts a lot but this is my dream and it's an honour to represent England here."
Daphne Schrager, part of Rob Ellchuk's successful training group at the University of Bath, clocked 17.09 to finish a fine fifth in the T35 100m final.
It was the first experience of a major senior competition for the 17-year-old, who is a pupil at Millfield School in Street.
"I definitely think I could have gone a bit faster, but I felt like my race was good – I was catching the Aussies!" said Schrager.
"I'm overjoyed to finish fifth in my first major championships as a senior. I've been working on power out of the blocks and I definitely think that it's starting to come through. As a T35, blocks will never be perfect but there are always little bits I can work on.
"Racing at the Commonwealth Games is the best feeling I've had in my career so far. Especially when the crowd was roaring my name – that was ridiculous! The camp has been great. All the athletes that have been there before have been really supportive and have really looked after me."
Badminton
University of Bath student Jessica Li, coached by Pete Bush, recorded an excellent 21-9 21-13 victory over Ogar Siamupangila of Zambia to reach the last 16 of the women's singles competition.
Li, who studies Economics & Mathematics and is supported by the Team Bath Dual Career programme, was making her second appearance of the day for the Isle of Man having teamed up with older brother Ben in the mixed doubles.
They fought well against Emmanuel Donkor and Stella Koteikai Amasah of Ghana but were edged out 21-17 21-18 in the round of 32.
Ben was also knocked out of the men's singles competition at the same stage as he lost 21-6 21-3 to Malaysia's Chong Wei Lee.