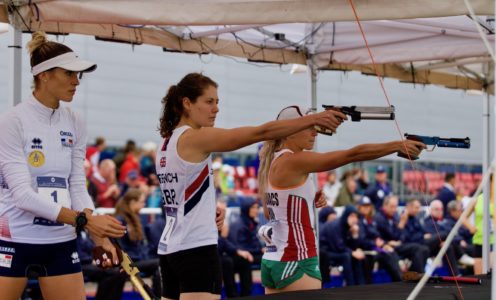 Some of the world's top all-round sportswomen made light of blustery conditions at the University of Bath Sports Training Village to secure their places in Sunday's Modern Pentathlon European Championships final.
The big names – which included an Olympic gold-medallist and the reigning World and European Champions – and all four British athletes were able to stay in contention for Tokyo 2020 Olympic qualification places by progressing through the semi-finals.
Britain's Kate French and France's Elodie Clouvel both performed consistently in Group A, swimming and fencing well, and looked comfortable in the run-shoot as they eased home in first and second respectively.
University of Bath graduate French, who won silver at the 2018 Europeans, said: "I'm really pleased to get through, especially competing on home soil. It's been so nice to compete in front of friends and family, and I'm really looking forward to Sunday.
"I think I just had a solid day all round. I was really pleased with my fencing, shooting, and felt good in the physicals. I got to take the run a little bit easy, so that was nice."
Rio 2016 Olympic runner-up Clouvel, who also won silver when the Europeans were last staged at the University in 2015, added: "The conditions weren't great [in the run-shoot] but fencing and swimming was good and I'm feeling good for the final.
"The organisation here is very good and I like this place – Bath is the best place for me!"
Lithuania's Gintare Venckauskaite and Germany's Annika Schleu both produced strong run-shoots to finish third and fourth respectively, having started nearly a minute behind the leaders.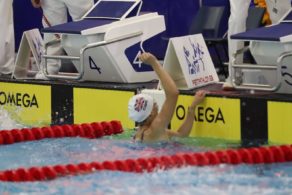 "It was really hard with the wind but I was happy with the run," said Schleu, the 2018 World Championships silver-medallist. "I started 20 seconds behind the top six but it was comfortable to run with them once I had closed the gap. It wasn't the perfect day, I hope I've saved that for the day after tomorrow, but I've made it and now we'll see what Sunday brings."
Also progressing through the field was Britain's Jo Muir, who made amends for a disappointing fence by smashing her personal best by two seconds in the swimming pool and then advanced from 16th to eighth in the laser-run.
"I've been working really hard on my fencing and felt I had made a breakthrough recently but it was frustrating today because I know I am much better than that," she said.
"The good thing is I know what I have to do now on Sunday to fix that and I was also really pleased with my swim. The home crowd was amazing – whenever I was breathing to the side I could see everyone waving and cheering me on!"
Group B was led home by Russia's Uliana Batashova, followed closely by London 2012 Olympic Champion Laura Asadauskaite who produced her trademark strong run-shoot to move up from ninth – and she says there is still plenty left in the tank for Sunday.
"Today was a good start," said the Lithuanian who won European gold on her last visit to Bath four years ago. "I had a good fence, a good swim and a good run, although not that fast a run, so I'm happy."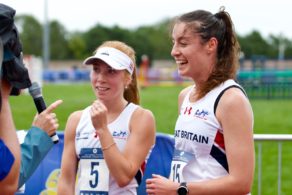 Germany's Rebecca Langrehr started and finished the run-shoot in third to wrap up a solid all-round performance in her first taste of a senior European Championships.
"I'm still a junior, so I'm very pleased to have made the final" said the 21-year-old. "I had a solid swim and my fencing was very good, as was my shooting so I was able to take it easier towards the end of my run. I'm just going to give my best on Sunday and see what happens."
Francesca Summers and Jess Varley completed a full set of individual finalists for Britain as they finished sixth and tenth respectively.
Former World Junior Champion Summers said: "I'm really happy to have qualified and feeling confident for Sunday. I had a slow start in the swimming but in the second half of the fencing I remembered how much I love it and began to really enjoy myself. I compete much better when I have fun, so I'm going to carry that into the final."
Varley, who ran well after starting the last discipline in 15th, added: "We're here to make the final, so it's job done. I'd like to have had a slightly stronger fence but I was really happy with my run-shoot and it was nice to qualify fairly comfortably in the end.
"I'm really excited for Sunday. We had a good crowd here today in the rain, so hopefully there will be a lot more coming out to support us in the final."
Also progressing from Group B were defending European Champion Marie Oteiza of France and reigning World Champion Anastasiya Prokopenko, who had to work hard to move up from 22nd to claim the final automatic qualifying place.
Click here to see a full list of qualifiers for Sunday's final and click here for a story of how the day went.
With the qualifiers complete, attention now turns to the main events of the week – the men's and women's finals, taking place on Saturday and Sunday respectively.
The biggest crowd for the European Championships in Bath is expected on Saturday but there is still chance for people to get tickets on the door for the afternoon's riding and laser-run events when the medalists and Olympic qualification places will be decided.
The action begins at 3pm but the family fun zone will be open from 1pm for people of all ages to have a go at a mini pentathlon.