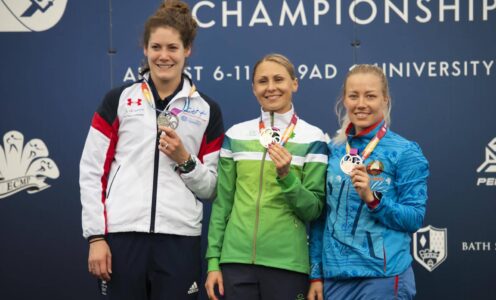 Lithuania's Laura Asadauskaite claimed her third gold medal on British soil as the 2019 Modern Pentathlon European Championships came to a thrilling conclusion at the University of Bath Sports Training Village.
The London 2012 Olympic Champion replicated her performance from when Bath last hosted the Europeans four years ago, powering through the field from sixth with an outstanding run-shoot to take the women's title in magnificent fashion.
"It's been a good day!" said Asadauskaite, who had already secured a Tokyo 2020 Olympic qualifying place by winning World Cup Final gold in Tokyo last month. "I was composed in the shooting and I ran fast, so I'm very happy."
Kate French, who performed consistently well across all disciplines, also earned an Olympic place for Pentathlon GB by coming home in second.
She went into the laser-run in that position and took the lead after the second visit to the shooting range before eventually being hunted down by Asadauskaite midway round the third lap. French held her form well to bring home the silver medal, matching her achievement at the 2018 Europeans.
"I'm over the moon with second place," said French. "I had to really fight today, nothing really came easy. I had a really good ride, which I was so pleased with and that put me in a good position for the final event.
"I just had to hold on really – I had Laura chasing me down. I did try and stay with her but she's so fast."
Iryna Prasiantsova of Belarus, a relay champion at both the World and European Championships in 2018, earned herself an individual medal this time as she came home in third having started the run-shoot with a narrow five-second lead.
"I feel so happy because it's the first time that I get the podium," said Prasiantsova, whose excellent display in the fencing arena propelled her into medal contention. "All day I worked and tried to stay confident and focussed on my event.
"It was a tough race and I knew that before the laser-run that Laura would keep pressuring me, so I am so happy that I have got third place. I enjoyed the whole day."
Finishing just outside the medals was Britain's Jo Muir who, inspired by the roar of the home crowd, produced a storming run-shoot to climb from 14th to fourth and, along with Francesca Summers' brilliant seventh-placed finish, helped to secure team gold for the host nation. Jess Varley, the other Brit in the field, was 26th.
Muir said: "I knew the laser-run was my strongest and I was really trying to catch the podium position. I'm a bit disappointed with my shoot but the last round made up for it.
"It was amazing and Kate was amazing all day, she's such an inspiration, it's really cool to be trying to follow in her footsteps and have her as a team-mate to push each other on."
Summers added: "I knew I had a lot of strong athletes around me but I went and did my race and I'm really glad I managed to overtake someone on the finish line. There is a lot more for me to give and I'm excited to see what the next competition brings. Winning team gold in front of the home crowd is amazing."
Also securing one of the eight Olympic qualifying places available at today's competition for their countries were Annika Schleu (Germany), Natalya Coyle (Ireland), Gintare Venckauskaite (Lithuania), Marie Oteiza (France), Adelina Ibatullina (Russia) and Sarolta Kovacs (Hungary).
The women's final brought to a close a brilliant week of competition at the University of Bath, which attracted hundreds of spectators across six action-packed days.
They were treated to some memorable performances from the home team, with Britain winning five gold medals – including the men's title for Jamie Cooke – and a silver for French.
Pentathlon GB CEO Sara Heath said: "Thank you to all the volunteers and officials for helping to make the championships so successful and thank you to the supporters who came out to back all the athletes, they have made it an amazing week.
"For Britain, winning five of the seven gold medals on offer is fantastic and I am incredibly proud of all the athletes, coaches and staff."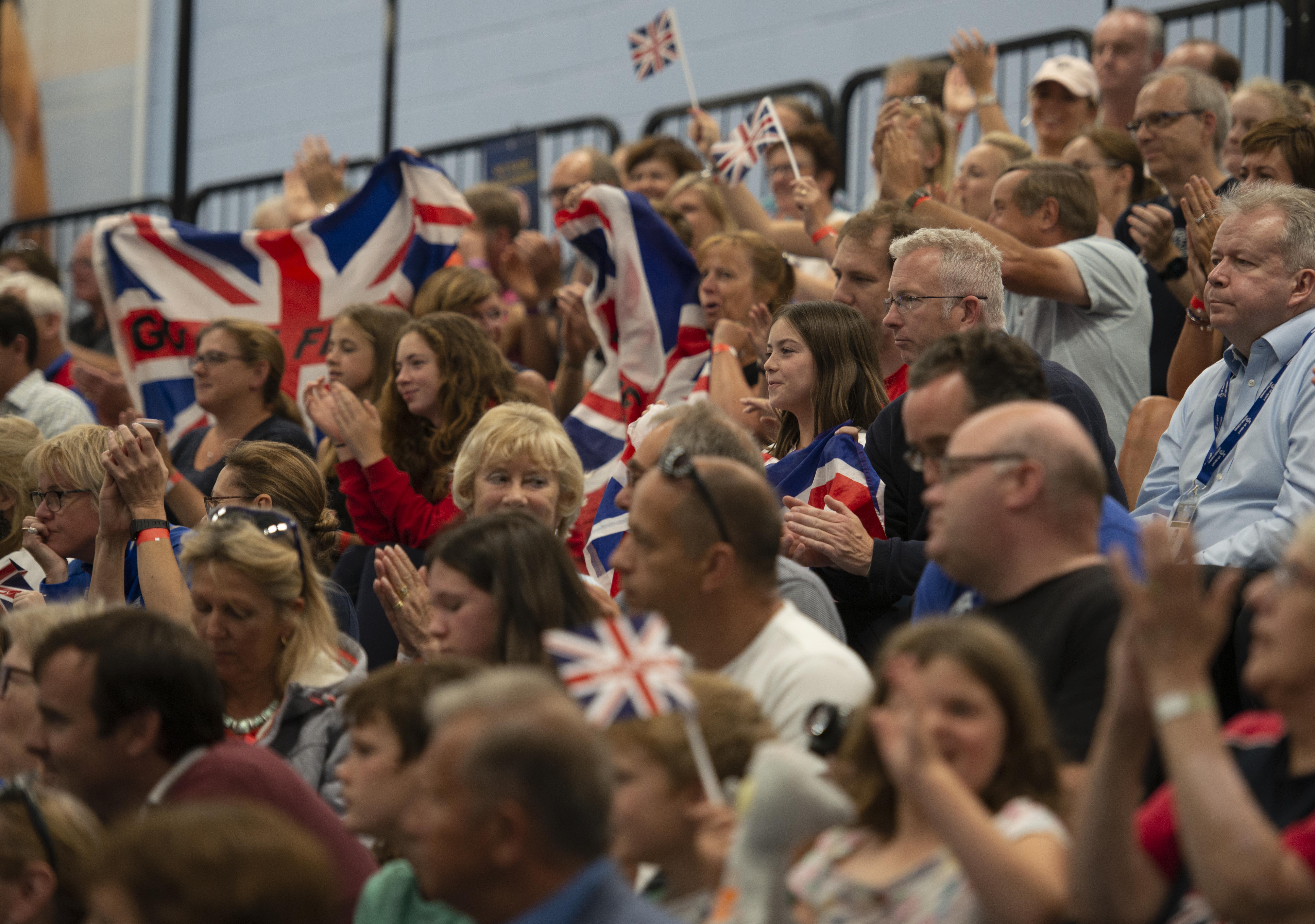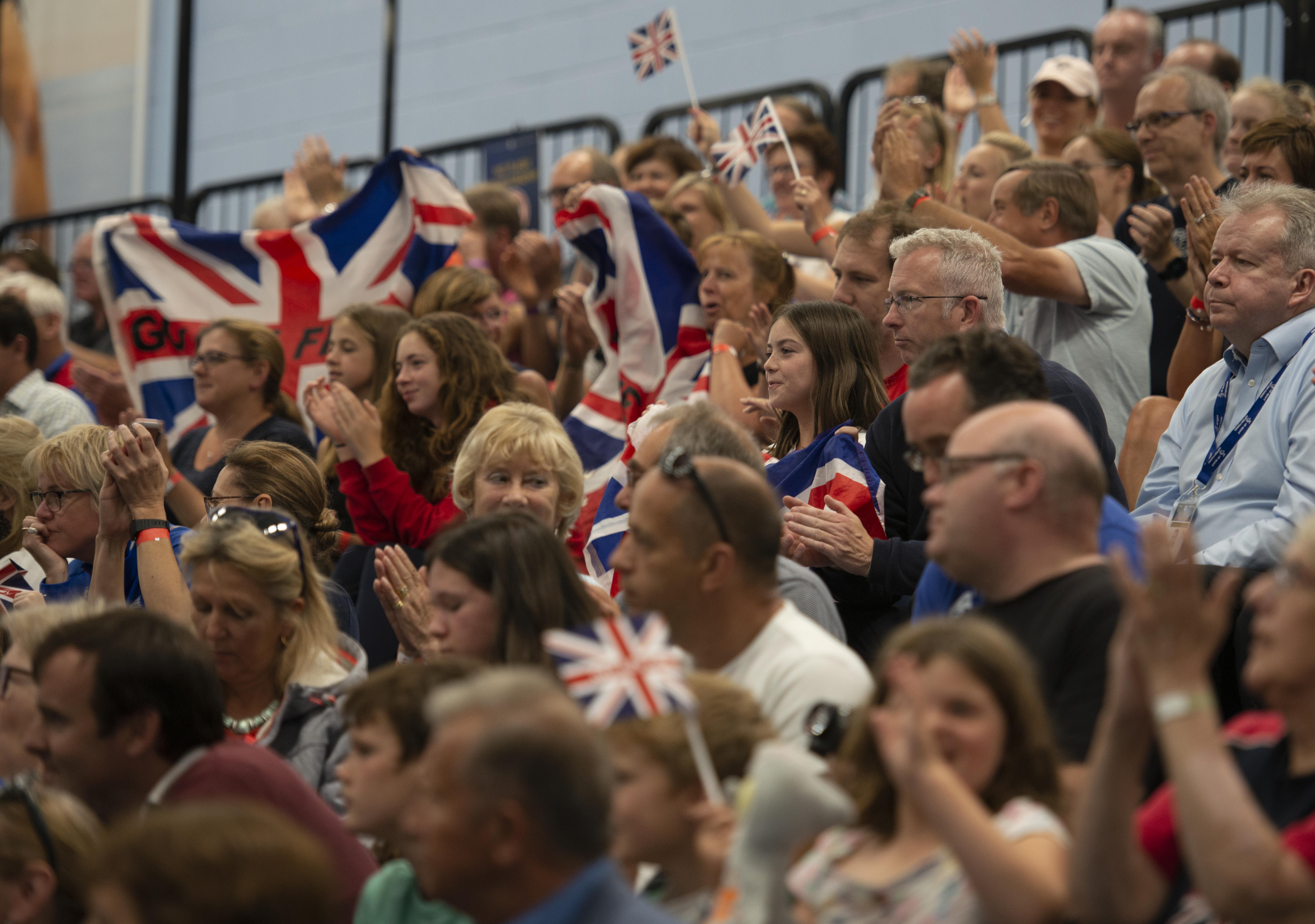 It is the second time in four years that the University of Bath – home to Pentathlon GB's National Training Centre since 1999 – has successfully hosted the European Championships and Director of Sport Stephen Baddeley was delighted with how the week has gone.
"We are so proud to embed even further the very strong relationship that the University of Bath has with the sport of modern pentathlon," he said.
"The volunteers, officials and event organisers have been absolutely outstanding and it has been a great experience. There have been great crowds and a really good atmosphere in all of the venues, so it has been a fabulous event for the city of Bath."
---
2019 European Championships roll of honour
Men's individual: Gold – Jamie Cooke (GBR); silver – Valentin Prades (FRA); bronze – Martin Vlach (CZE).
Women's individual: Gold – Laura Asadauskaite (LTU); silver – Kate French (GBR); bronze – Iryna Prasiantsova (BLR).
Men's team: Gold – Great Britain (Jamie Cooke, Joe Choong, Tom Toolis); silver – France (Valentin Prades, Valentin Belaud, Brice Loubet); bronze – Czech Republic (Martin Vlach, Jan Kuf, Ondrej Polivka).
Women's team: Gold – Great Britain (Kate French, Jo Muir, Francesca Summers); silver – Belarus (Iryna Prasiantsova, Volha Silkina, Anastasiya Prokopenko); bronze – Lithuania (Laura Asadauskaite, Ieva Serapinaite, Gintare Venckauskaite).
Mixed relay: Gold – Great Britain (Kerenza Byrson, Myles Pillage); silver – Czech Republic (Eliska Pribylova, David Kindl); bronze – Italy (Irene Prampolini, Valerio Grasselli).
Men's relay: Gold – Great Britain (Oliver Murray, Myles Pillage); silver – Ukraine (Andriy Fedechko, Vladyslav Rydvanskyi); bronze – Hungary (Istvan Malits, Richard Bereczki).
Women's relay: Gold – Russia (Ekerterina Khuraskina, Anastasia Petrova); silver – Italy (Beatrice Mercuri, Irene Prampolini); bronze – Hungary (Luca Barta, Kamilla Reti).