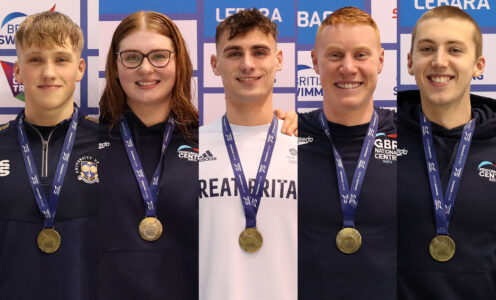 Jacob Peters and Freya Anderson won double gold and there were further titles for Tom Dean, Joshua Gammon and Luke Turley as University of Bath-based athletes claimed a host of medals at the 2023 British Swimming Championships in Sheffield.
Peters followed up his 100m butterfly one-two with British Swimming Performance Centre Bath training partner James Guy by recording the fastest time in the world this year in Sunday's stacked 50m butterfly final.
Going in lane five, Peters' start saw him level with University of Bath Swimming Club's Ben Proud – who had won the 50m freestyle title the previous day – at the front of the field before he pulled away from the 2017 world champion in the event to take gold in 22.89.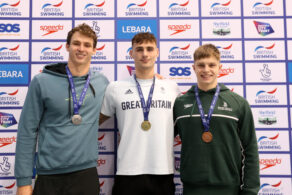 "That has shocked me a little bit actually!" said Peters, whose winning times were both within the consideration time for this summer's World Championships in Japan. "I'd done the job in the 100m so it was time to let loose, see what I'd got and how fast can you go!
"We'll see what happens out in Japan but I'm really looking forward to it and it's definitely given me a lot of confidence moving forward."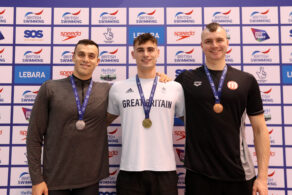 Peters had led from the front in Friday's 100m final and set a new personal best of 51.16 as he held off a late charge from silver-medallist Guy to claim his first British title.
Anderson, also coached by David McNulty at the Team Bath Sports Training Village, was another Bath Performance Centre swimmer to record a new PB as she struck 200m freestyle gold in 1:55.89, mighty close to the British record.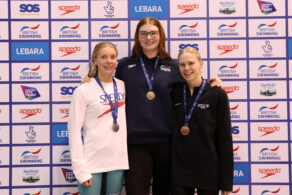 She then went under the world consideration time in an enthralling 100m freestyle final, overhauling University of Bath alumna Anna Hopkin – winner of the 50m freestyle title – in the last 25m to claim victory by just four-hundredths of a second.
"It's nice to get that 100m title back and it was a quicker time than I expected, so I'm really happy," said Anderson. "I had to remain calm because last year's trials weren't the best for me but you just have to trust the process, trust my coach Dave and all the team around me who work so hard. You just see me on the blocks, but there is a team of hundreds who have helped me get there."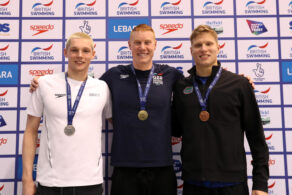 There was another thrilling finish in the 200m individual medley final as Bill Whiteley Sporting Scholar Dean came out on top in another excellent battle with Duncan Scott by 0.07secs, his winning time of 1:56.65 again being withing the worlds consideration standard.
Dean was then involved in an epic 200m freestyle final on Sunday, the Olympic champion finishing runner-up to former training partner Matt Richards in 1:44.93 as both went under the 1:45 barrier. Guy completed the podium in 1:45.85 for his second medal of the week.
"That was a world-class final," said Dean. "Two boys doing 1:44s, we haven't had that since Olympic Trials in 2021 when Duncan and I did it and then we went on to win the 4x200m free at the Olympic Games with Matt, Jimmy, Duncan and Jarv [Calum Jarvis]."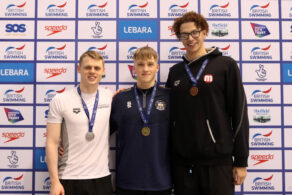 One of the surprise wins of the week came from Sports Performance student Joshua Gammon, coached by Andrei Vorontsov, who stunned the field in the 200m butterfly with a three-second personal best from lane seven.
"It was a bit unexpected," said Gammon, who was also sixth in high-quality 50m and 100m finals. "I just cleaned it up a little bit, sorted my technique out, my turns and other little things and it paid off which is brilliant."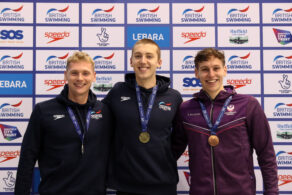 Sports Performance graduate Luke Turley was also celebrating his first British title after a brilliant battle with Kieran Bird in the 400m freestyle, just three-tenths of a second separating the Bath Performance Centre team-mates.
"Those last few metres, it was hurting quite a lot but just have to hold on for dear life," said Turley who also won 800m freestyle silver.
Other medals were won by Ivor Powell Sporting Scholar Cameron Brooker (100m backstroke silver, 50m backstroke bronze); Santander Scholar Leah Crisp (400m freestyle silver); Brodie Williams (200m backstroke silver); and Management graduate William Ryley (400m IM silver).
British Swimming Championships 2023 Roll of Honour
Gold
Freya Anderson (100 freestyle 53.48, 200m freestyle 1:55.89).
Tom Dean (200m IM 1:56.65).
Joshua Gammon (200m butterfly 1:58.88).
Jacob Peters (50m butterfly 22.89, 100m butterfly 51.16).
Ben Proud (50m freestyle 21.71).
Luke Turley (400m freestyle 3:48.31).
Anna Hopkin (50m freestyle 24.51).
Silver
Kieran Bird (400m freestyle, 3:48.61).
Cameron Brooker (100m backstroke 53.94).
Leah Crisp (400m freestyle 4:12.85).
Tom Dean (200m freestyle 1:44.93).
James Guy (100m butterfly 51.63).
Ben Proud (50m butterfly 23.37).
Luke Turley (800m freestyle 7:52.10).
Brodie Williams (200m backstroke 1:57.18).
Anna Hopkin (100m freestyle 53.52).
William Ryley (400m IM 4:19.11).
Bronze
Cameron Brooker (50m backstroke 25.23).
James Guy (200m freestyle 1:45.85).
Other finalists
Women's 50m breaststroke: Jana Spinner, 7th 32.79.
Men's 50m backstroke: Jono Adam, 7th 25.53.
Women's 800m freestyle: Leah Crish, 5th 8:45.61.
Men's 100m backstroke: Jono Adam, 4th 54.39; Brodie Williams, 5th 54.60.
Women's 200m butterfly: Holly Hibbott, 5th 2:12.02.
Men's 100m freestyle: Tom Dean, 4th 48.32; Ed Mildred, 6th 48.83.
Women's 200m backstroke: Niamh Ward, 5th 2:13.45.
Men's 100m butterfly: Joshua Gammon, 6th 52.70; Ed Mildred, 7th 53.30.
Men's 50m butterfly: Joshua Gammon, 6th 23.89.
Women's 1500m freestyle: Leah Crisp, 4th 16:59.41.
Men's 200m backstroke: Cam Brooker, 4th 1:57.94.
Women's 100m butterfly: Holly Hibbott, 7th 59.78.
Men's 200m freestyle: Kieran Bird, 7th 1:48.41; Luke Turley, 8th 1:48.56.
B Final winners
Women's 200m backstroke: Rue Fowler 2:14.84.
Women's 400m freestyle: Jemima Hall 4:16.78.
Men's 200m backstroke: William Ryley 2:00.20.