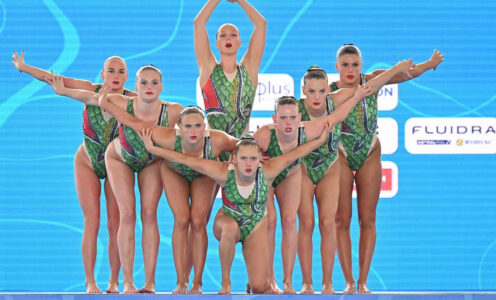 Five students and Olympic Champion Joe Choong are among the 12 University of Bath-based athletes selected by Team GB for the Kraków-Małopolska 2023 European Games, taking place in Poland from 21st June to 2nd July.
Choong is joined by Sport Management and Coaching student Charlie Brown in an eight-strong modern pentathlon team, who all part of Pentathlon GB's National Training Centre at the Team Bath Sports Training Village.
Sam Curry, Charlie Follett, Olivia Green, Myles Pillage and Jess Varley – who, like Choong, are all University of Bath graduates – complete the team along with recent World Cup gold-medallist Kerenza Bryson. They will be looking to secure a Paris 2024 Olympic Games qualifying place, with eight spots available in both the men's and women's competitions.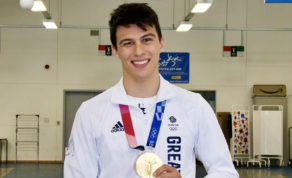 Choong said: "I'm really excited to be competing at my first ever European Games. It will be really exciting to get into a multi-sport environment and see athletes from other sports. It's going to be similar to an Olympic experience which has brought me some of my best memories.
"Becoming Olympic Champion in Tokyo was a dream come true and then last year I got the World Championship title, so the European title would be the icing on the cake!"
Team GB's eight-strong artistic swimming team (pictured top) features three University of Bath students – Olympian Kate Shortman, who studies International Management and Modern Languages (French), and Sports Performance duo Daniella Lloyd – supported by a Goldsmith Scholarship – and Robyn Swatman.
Shortman, who is a Bill Whiteley Sporting Scholar, will contest the Duet Technical and Free events with Isabelle Thorpe following their impressive bronze medals at the recent Montpellier leg of the Artistic Swimming World Cup. Lloyd and Swatman will compete in the Free, Technical, and Acrobatic teams at the European Games, which also carries qualification spots for next summer's Olympic Games in Paris.
Heading to his second European Games is pistol shooter Kristian Callaghan, who is in the fifth year of a PhD Research Programme in Electronic and Electrical Engineering at the University.
"I'm thrilled to be selected and honoured to get to wear the Team GB uniform once again," said Callaghan, who won bronze at the Glasgow 2014 Commonwealth Games.
"Multi-sport Games like this are really unique and special, and I'm really looking forward to competing out in Poland. It will be super exciting to compete alongside the rest of Team GB against the best in Europe once again."
Completing the University of Bath links to the European Games is Integrated Mechanical and Electrical Engineering graduate Amy Wilson Hardy, who has been selected in the women's rugby sevens squad. She previously represented Team GB at the Rio 2016 Olympic Games.
Team GB will compete across 18 Olympic disciplines in total during the European Games, with Krakow serving as the 2023 European Championships for eight of these. In total, the third edition of the European Games will see around 7,000 athletes from 48 European nations compete across a 12-day sporting programme.
Selected athletes
Artistic Swimming: Daniella Lloyd, Kate Shortman, Robyn Swatman.
Modern Pentathlon: Charlie Brown, Kerenza Bryson, Joe Choong, Sam Curry, Charlie Follett, Olivia Green, Myles Pillage, Jess Varley.
Rugby Sevens: Amy Wilson Hardy.
Shooting: Kristian Callaghan.