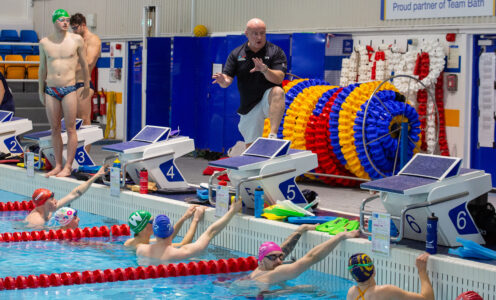 The countdown is on for athletes who train or study at the University of Bath as the Paris 2024 Olympic Games are now just a year away.
They will be determined to have secured their place on the biggest sporting stage of all when the Olympic flame is lit in front of the Trocadero on Friday 26th July 2024 following a unique opening ceremony taking place on the River Seine.
Two athletes have already achieved Olympic quota places for Team GB in modern pentathlon – reigning men's champion Joe Choong and fellow Bath graduate Olivia Green, both of whom train at the Team Bath Sports Training Village with Pentathlon GB.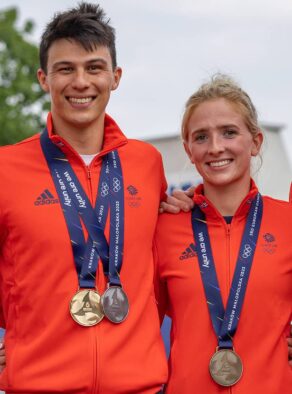 "I can't believe the Olympics are so close," said Green, who achieved the standard by winning women's individual bronze for Team GB at the 2023 European Games in Poland last month.
"It feels like the Tokyo Games were really recent but now we're just a year away from Paris. The Olympics are the big goal for all of us and I am determined to be part of the team next summer."
There will be another opportunity for Pentathlon GB athletes to secure second quota spots for Team GB in both the men's and women's competitions when the UIPM Modern Pentathlon World Championships are staged at the University of Bath during August.
The top-three finishers in the men's and women's individual finals on Sunday 27th August will earn a Paris qualification place for their country. Tickets are on sale now for the Championships, which run from 19th to 28th August – click here for further details.
Members of the British Swimming Performance Centre Bath, who train in the London 2012 Legacy Pool at the University, have brought home 13 medals from the last three Olympic Games – including a stunning seven gold at Tokyo 2020.
Two of them went to Bill Whiteley Sporting Scholar Tom Dean, coached by David McNulty, who added to his international medal collection with 200m freestyle silver at the 2023 World Aquatics Championships in Fukuoka, Japan on Tuesday.
"It bodes well for the relay and really bodes well for the Paris Olympics next year," said Dean, who was pipped to gold by just two-hundredths of a second by former training partner Matt Richards. "I am buzzing right now."
Fellow Bill Whiteley Sporting Scholar Kate Shortman, who studies International Management and Modern Languages (French) at the University, is also going into Olympic year off the back of a World Championships medal.
Her Women's Solo Free bronze in Fukuoka was Britain's first-ever artistic swimming World Championships medal and she said: "Now we've finally done it on the world stage, I hope that people can see that artistic swimming in Great Britain is coming up and coming through. We're going to the Olympics next year and we want a medal in that too."