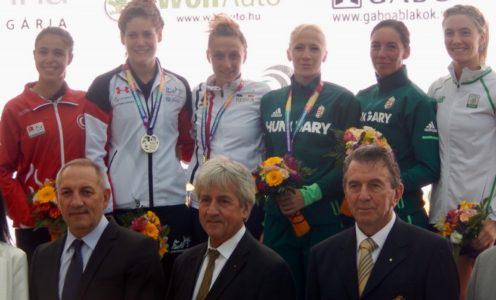 Pentathlon GB won medals in both the men's and women's individual competitions for the first time at a European Championships as Kate French and Joe Choong both recorded excellent podium finishes in Hungary.
Sports Performance graduate French continued her superb form to win silver on Saturday, her first medal at a major international championships.
The celebrations continued 24 hours later as MJ Church Ambassador Choong, fresh from graduating from the University of Bath in Mathematics, bagged bronze in the men's competition.
French, who won World Cup gold in Bulgaria earlier this year, said: "I'm so happy! I've wanted to win a major championships medal for a while so I'm really pleased to have done that today.
"Winning gold at World Cup 4 gave me a lot of confidence because I wasn't sure where my form would be after the break over the winter. That made me realise I was still very close and was a big factor today."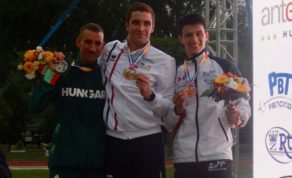 A solid swim and fine fencing performance, which saw her win 23 of her 35 bouts, left French well placed at the halfway stage and she moved up to fifth after scoring 293 points out of 300 in the ride.
French demonstrated strong form as she moved up to second at the end of the first 800m loop in the decisive run/shoot and while the lead of France's Marie Oteiza proved too great to close down, the Brit was able to maintain her position to secure silver ahead of local favourite and two-time World Champion Sarolta Kovacs.
Jo Muir moved up from 25th to 17th during the run/shoot but some struggles in the shooting range meant former World Champion Samantha Murray had to settle for 35th place overall.
There was disappointment before the men's final on Sunday as Jamie Cooke was forced to withdraw having suffered a bout of dizziness.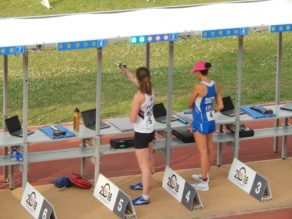 In his absence, fellow Rio 2016 Olympian Choong topped the swimming standings with a time of 2:01.40 before overcoming a slow start in the fencing to win 20 of his 34 bouts and sit fifth overall.
Choong clipped just the last fence in the ride to move up to fourth, then showed admirable composure on the shooting range to complete all four series in just 36.8 – the quickest in the field – as he clinched the first major medal of his senior career.
Fellow Brits Sam Curry and Tom Toolis also performed well in the final discipline as they crossed the line in 28th and 31st respectively.
The 2019 Modern Pentathlon European Championships are taking place at the University of Bath Sports Training Village, home of Pentathlon GB's National Training Centre, from August 6-11 next year.
Dubbed 'Gladiators Return', The National Lottery-backed event is a qualifying competition for the Tokyo 2020 Olympic Games and French is looking forward to taking on Europe's finest on home soil.
"I can't wait to compete at the Europeans in Bath next year," she said. "I love competing on home soil and the facilities at the University are great.
"The Hungarians had incredible support this week so it will be great to have that for the British team next year and I hope I can back up this performance in front of them."