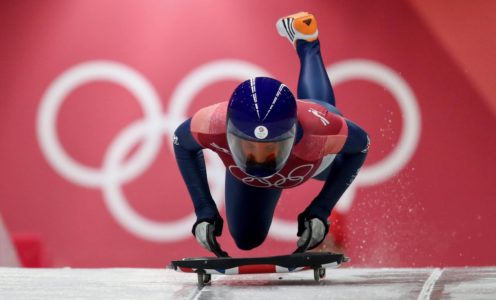 Lizzy Yarnold and Laura Deas are both pushing hard for a Winter Olympic Games medal after finishing third and fourth respectively at the halfway point of the women's skeleton competition at PyeongChang 2018.
Just hours after University of Bath PhD student Dom Parsons had won a historic bronze in the men's race, defending champion Yarnold took to the ice and set a new track record to lead the way after the first run.
She dropped down to third after the second run but is still just a tenth of a second behind leader Jacqueline Loelling of Germany with a combined time of 1:43.96.
"I have got a throat or sinus infection going on, and I am struggling to breathe enough as it cold and dusty," said Yarnold.
"I am well in the mix and that is the goal. The goal is to be the first Briton to retain a title and it will not be easy, but I hope to do it for all the people who have supported me."
British Bobsleigh & Skeleton Association (BBSA) team-mate Deas (pictured), making her Olympic debut, was sixth fastest after the first round but nailed her second run to move up to fourth overall with a combined time of 1:44.03.
"It is a nice place to be sitting in fourth, seven hundredth of a second out of a medal," said Deas. "It is a sport where anything can happen. I just want to stay positive and find those hundredths."
Australia's Jackie Narracott, who does her sprint training at the University of Bath with Rob Ellchuk, lies 16th overall after the first day with a combined time of 1:45.29.
The third run will take place at 11.20am GMT on Saturday before the medals will be decided in the final round at 12.45pm GMT.
Also competing on Saturday is University of Bath Sports Performance graduate Lloyd Wallace, whose aerial skiing heats get under way at 11am GMT.
Wallace is supported by a Team Bath Service Support Grant and still does his strength and conditioning work at the University of Bath Sports Training Village. Click here to read more.
Picture of Laura Deas courtesy of Kevin Jairaj/USA TODAY Sports/Sipa USA