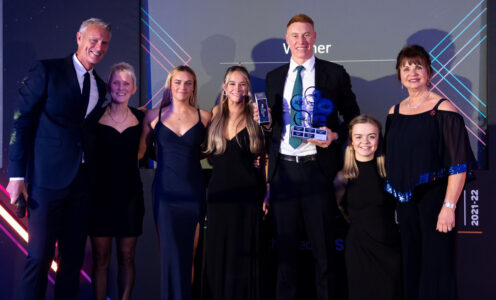 University of Bath swimmer Tom Dean capped an unforgettable two years when he was named as both Outstanding Swimmer and Champion Athlete as British Swimming staged their 2021-22 awards in Manchester.
Fellow sporting scholar Kate Shortman won the Outstanding Artistic Swimmers award alongside partner Isabelle Thorpe and David McNulty, coach of the hugely-successful British Swimming Performance Centre Bath squad, took the Coach of the Year accolade.
The Awards 2021-22, Supercharged by Speedo, reflected on the immense achievements for British swimmers of the past two years and saw double Tokyo Olympic champion Dean overcome fierce competition from Adam Peaty, Duncan Scott and Bath University Swimming Club's Ben Proud to take the Outstanding Swimmer honour.
"There is such competition that I was up against," said Dean, who is supported by a Bill Whiteley Sporting Scholarship and also won a record-breaking seven medals at the Birmingham 2022 Commonwealth Games this year, plus three at the World Championships.
"The three other guys nominated alongside me for the Outstanding Swimmer Award are all record-breakers in their own right in the last two years, so to be able to step up there and win the award was incredible. I shouted them out in my speech and said anybody could have won this award, it's a real testament to the strength of British Swimming at the moment.
"It's so great to be a part of that, to be in that energy and to be part of a driving force within, pushing British Swimming to greater heights. It was brilliant."
Dean was also presented with the inaugural Maurice Watkins Champion Athlete prize, with the trophy named after British Swimming's influential late Chair.
"I just spoke to his daughter and she was telling me all about what he did for our sports in his nine years with British Swimming, which was incredible, so to be honoured with an award in his name is really special," Dean added.
Dean's two gold medals at Tokyo 2020 were among seven won by Performance Centre Bath swimmers at the rescheduled Olympic Games and the University-based squad, under the guidance of Coach of the Year McNulty, went on to claim an incredible 25-medal haul at the Commonwealth Games.
"I've got some great swimmers down in Bath and that's why I'm standing here today," said McNulty, who was inducted into the Team Bath Hall of Fame for Sport earlier this year. "This is extra special because there was a five-year journey to the last Olympics and there were so many times I thought 'we might not get there', so to go through all of that, go to the Olympics and do the best we've ever done as GB was amazing."
Another athlete who has built on their Tokyo experiences to impress on the world stage this year is Shortman, an International Management and Modern Languages (French) student at the University of Bath supported by a Bill Whiteley Scholarship.
"We're grateful and honoured to be here and to win an award, it's amazing," said Shortman, who trains with partner Thorpe and the GB artistic swimming squad in Bristol. "I think back to Tokyo and it feels like a dream."