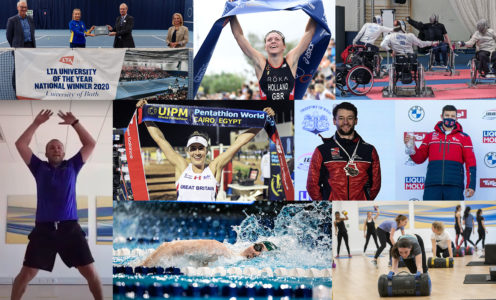 It could not have been more different to the year we were eagerly looking forward to but there has still been much to celebrate and be thankful for at Team Bath during a challenging 2020.
From the versatility, ingenuity and positive attitude of staff, athletes, coaches, students and customers adapting to the ever-changing 'new normal' to more traditional markers of success such as international medals and national awards, it has certainly been a year that none of us will forget.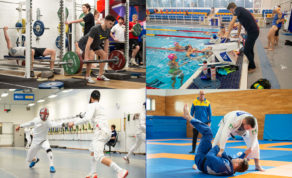 It began with the Tokyo 2020 Olympic and Paralympic Games firmly on the horizon and we marked what was supposed to be 'six months to go' by spending a typically busy day with the various elite training groups – athletics, judo, modern pentathlon, swimming, triathlon and wheelchair fencing – as they honed their preparations at a buzzing Team Bath Sports Training Village (STV). Click here to watch the video on TeamBathTV.
Those meticulous plans were torn up when the UK went into lockdown in March and the Tokyo Games were rescheduled for 2021. However, thanks to the hard work and planning of staff from Team Bath and the national governing bodies, a number of elite athletes were able to safely return to training in Covid-compliant conditions at the STV during the summer and begin a new countdown to the Games.
Among them is Rio 2016 Olympic bronze-medallist and former World Champion Vicky Holland, who became the first University of Bath-based athlete to officially be selected for Tokyo 2020 when she was named in the Team GB triathlon squad in November.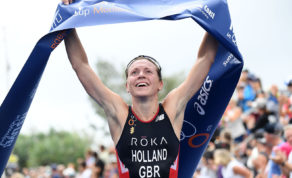 Holland had won gold at the Mooloolaba World Cup in Australia in March, while there were also pre-lockdown international World Cup victories in their respective sports for Pentathlon GB's Jo Muir in Egypt and wheelchair fencers Dimitri Coutya and Piers Gilliver in Hungary. The duo's coach, Peter Rome, was rewarded for his outstanding work with the University-based GB squad by being named as High-Performance Coach of the Year at the UK Coaching Awards 2020.
Competition opportunities have understandably been significantly reduced since March but seven members of the British Swimming National Centre Bath squad were able to be part of the 'Budapest bubble' for the 2020 International Swimming League in Hungary, with University of Bath student Tom Dean – supported by a Bill Whiteley Scholarship – and new recruit Freya Anderson among those producing eye-catching performances as London Roar finished runners-up overall.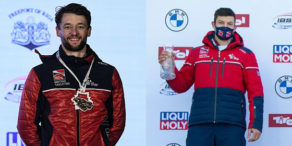 Athletes working towards the Beijing 2022 Winter Olympic Games have had their schedule less affected, with the opening rounds of the 2020-21 IBSF World Cup campaign seeing Matt Weston and Marcus Wyatt impressively win silver and bronze respectively for British Skeleton – GB's first medals on the men's top circuit for seven years.
The early stages of 2020 saw University of Bath students win 26 medals, nine of them gold, at the BUCS Nationals; BUCS Super Rugby duo Max Ojomoh and Gwilym Bradley represent England and Wales respectively in the U20 Six Nations; and Team Bath Netball signal their title-challenging intent by winning their opening three matches of the Vitality Superleague season in emphatic style.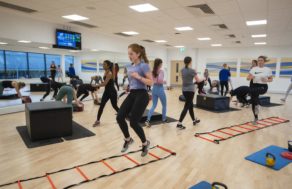 The first-ever Team Bath Fitness Fiesta also took place at the STV and proved to be a big success, with hundreds of people taking the opportunity to enjoy free exercise classes, workshops and gym challenges.
Within a fortnight of the Fitness Fiesta finishing, the national lockdown saw the STV shut its doors and it remained closed to the public for the next 136 days. However, coaches and athletes quickly adapted to working out from home, as did gym customers and the wider public thanks to the tireless efforts of Team Bath staff like Sam Holmes, Rachel Shaw and Danii Bachkirov.
Their live exercise classes and inspirational home workout demonstrations received thousands of views online, helping people to 'stay in, work out' until the STV reopened in August. Even more classes were added to the timetable during the second national lockdown in November, with Team Bath determined to play its part in keeping the community active, healthy and motivated.
Staff and trainers also worked in collaboration with the University and The SU Bath to provide a host of activities, delivered in person on campus or online to those self-isolating or working remotely, supporting the physical and mental wellbeing of students and staff during the first semester of this academic year.
Team Bath's staff also received high praise from Wera Hobhouse MP in September when she officially presented Team Bath Tennis with the LTA's University of the Year award, with the Bath MP hailing the coaching team as 'fabulous' and saying: "This is a place where excellence can shine through but also a community facility where all of the people in Bath can participate."
In such turbulent times, it is difficult to make any predictions for what 2021 may bring but there are still plenty of reasons to be positive going into the new year.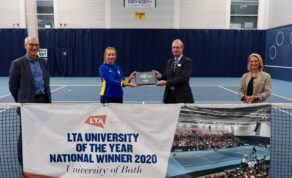 An exciting, star-studded Team Bath Netball squad – featuring Imogen Allison and Serena Guthrie, who won their first and 100th England caps respectively against New Zealand in October – is determined to build on the promise of the curtailed 2020 season and push for a sixth Superleague title.
The Blue & Gold – now sponsored by new Principal Partners Haines Watts alongside Team Bath overall sponsor Rengen Devlopments and Centurion Chartered Financial Planners – have also been boosted by the return of England defender Layla Guscoth, who was named among the Daily Telegraph's Sportswomen of the Year in recognition of her off-court work as a doctor with the NHS in the fight against Covid-19.
The promise of the rescheduled Tokyo Games, in whatever form they may take, is another bright spot on the horizon, and the dedication of the elite athletes and their coaches as they work hard at the STV and stay fully focussed on their dream remains truly inspirational.
Finally, there is the wonderful ongoing support from customers, students, athletes, coaches and community groups, as well as our sponsors, for the staff helping to safely deliver sporting and fitness opportunities at the STV and online during ever-changing circumstances. Thank you to everyone who has contributed.
Whatever it may bring, we wish you all a safe, healthy and Happy New Year.