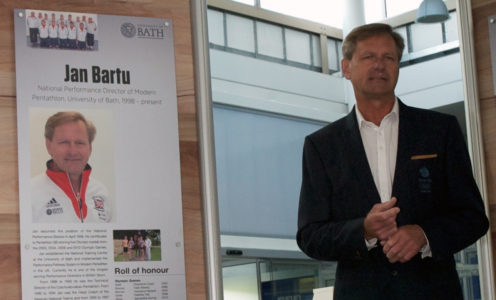 Pentathlon GB Performance Director Jan Bartu, who "built an empire at the University of Bath" that has produced a host of Olympic, World and European Champions, has today retired from his role after an incredible 23-year tenure.
Under his guidance modern pentathlon has become one of Britain's most successful Olympic sports with medals at five of the last six Games, including a historic golden double for Joe Choong and Kate French at Tokyo 2020 this summer. In total, more than 100 medals have been won on the senior international stage by athletes on the Performance Pathway System set up by Bartu at the Team Bath Sports Training Village.
"I want to say massive thanks to all members of the Pentathlon GB family for providing me with an opportunity to lead the Performance Programme for 23 years and eight months," said Bartu, an inductee into the University of Bath Hall of Fame for Sport. "I am leaving happy with all fantastic achievements and when I look back over my shoulder I will see friends. Wishing you a bright future and continued success in the years to come."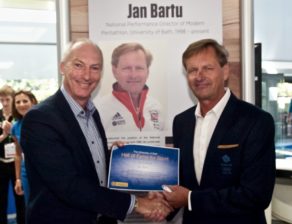 A double Olympic medallist himself during an international modern pentathlon career with Czechoslovakia, Bartu first joined the British set-up in April 1998 following successful spells as Technical Director of his home country and Head Coach for Mexico and the United States.
One of his first actions was to establish a Pentathlon GB National Performance Centre at the University of Bath, providing a central venue where the country's leading pentathletes could receive elite training and sport science support across pentathlon's multiple disciplines while, for many, also gaining a top-class education.
Stephen Baddeley, Director of Sport at the University of Bath, said: "Jan has always been a pleasure to work with. He is a true professional, demanding high standards and complete commitment from everyone involved in delivering the Modern Pentathlon World-Class Programme from athletes through to himself.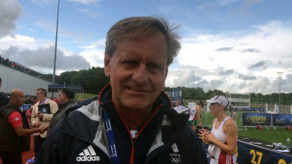 "He helped to design the Sports Training Village and has been instrumental in creating, maintaining and enhancing our high-performance environment. He greatly appreciated the deep partnership with the University and was regularly vocal in praise of the University's support for modern pentathlon.
"His track record speaks to his incredible professionalism and expertise, and I'm so delighted for him that he could finish his career on such a high at Tokyo."
The performance programme paid early dividends when Stephanie Cook and Kate Allenby won gold and bronze respectively at Sydney 2000 in the first-ever Olympic women's individual final. Cook went on to be crowned World and European Champion the following year, providing further evidence that the high-performance programme was producing results.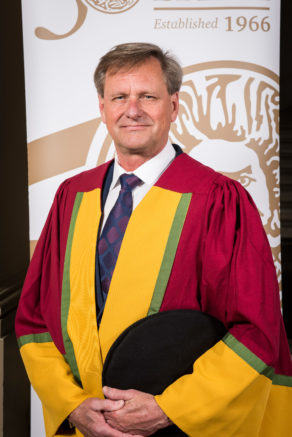 Further Olympic medals followed as Georgina Harland won bronze at Athens 2004, then Heather Fell and Samantha Murray – a University of Bath student at the time – claimed silver at Beijing 2008 and London 2012 respectively. Mhairi Spence and Murray were also crowned as individual World Champions in 2012 and 2014 before Jamie Cooke became the first British man to claim the global title in memorable style in 2018.
A phenomenal 2019 season saw Bartu win a UK Sport PLx Award for the Biggest Turnaround or Breakthrough in High Performance Sport after Pentathlon GB athletes won a host of medals at the World and European Championships, including another individual gold for Cooke when the University of Bath hosted the latter competition for the second time.
Mathematics graduate Choong also won the 2019 World Cup Final in Tokyo, a city in which he became the first Brit to win the men's individual title at the delayed Olympic Games this summer. French's gold medal in the women's final meant that Britain became the first country to win both Olympic pentathlon titles at the same Games, a fitting climax to Bartu's ground-breaking time with Pentathlon GB.
Double Olympian Jamie Cooke has won World, European and World Cup Final gold under the guidance of Bartu and said: "We're saying goodbye to one of the longest-serving and most successful Performance Directors not just in pentathlon but British sport as a whole.
"Jan is leaving a lasting legacy of performance. His athletes have won medals at all but one Olympic Games, across both genders, and that builds on the success of a programme that has produced multiple World and European Champions, and World Cup medals.
"The story that is untold is this programme was built by him. Back in the day it operated out of a shed at the Sulis Club off-site but Jan has built an empire at the University of Bath where the facilities, support staff and coaching team are second to none. We all wish Jan the best for the future."
As well as being a member of the University of Bath Hall of Fame for Sport, Bartu was awarded a Honorary Doctorate by the University in 2017.