Skeleton
Sport/Event > Skeleton
Date and Place of Birth >
1977, Taunton, UK
Height > 178cm
Weight > 86kgs
Coached by >
Danny Holdcroft
Date Arrived at Team Bath >
Summer 2003
Occupation >
Athlete
Sports Administrator:
IOC Member
LOCOG Board member
BOA Board member
Biography>
Adam has represented Great Britain in skeleton at two Olympic Winter Games, finishing eighth at Turin in 2006 and 18th at Vanco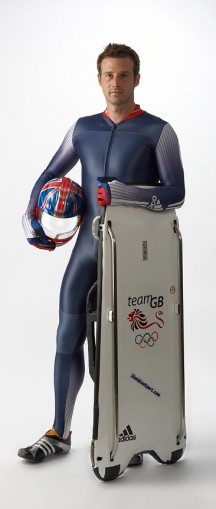 Read more
Sport/Event > Bob Skeleton
Date and Place of Birth >
1980, Essex, UK
Coached by >
Mark Wood
Biography >
Took up the sport in 2002. Made an instant impact in his first season on the World Cup circuit in 2006/7, with two top-20 finishes in his first three races to stand 21st overall at the end of 2006, after three of the eight rounds.
Followed that...
Sport/Event > Skeleton
Date and Place of Birth >
29 September 1982, Cambridge, UK
Height > 5ft 8in
Coached by >
Mickey Grunberger
Occupation >
Athlete
Biography >

Amy made a piece of history in 2010 when she became the first British woman to win an Olympic Winter Games gold medal in the sport of skeleton. Her victory was Britain's only medal of the Vancouver 2010 Games.
She was also Britain's first gold medallist...
Sport/Event > Bob-skeleton
Date and Place of Birth >
1972, Rossendale, Lancashire
Height > 5ft 10in
Coached by >
Richard Bromley and Marques Church
Course of Study >
Coach, athlete lifestyle management certificate
Occupation > Athlete
Biography >
Dr Kristan Bromley is otherwise known as "Dr Ice" and he has been sliding for 8 years. His reason for taking up sport was as a PhD Research Project.
Personal Sponsor > King...
Date of Birth > 1973
Biography >
Alex was the winner of the bronze medal for the bob skeleton in the Salt Lake City 2002 Winter Olympics. She won the medal whilst competing with a broken wrist, having broken it in training 10 days prior to her race.
She holds many records for achievements in the field of skeleton, won ...
1
British Skeleton has its base at the University of Bath and skeleton sliders based here have won an array of medals on the international stage.

Catch up on all the latest skeleton news, features, events and reports here.

The home of all student sport at the University of Bath. Get involved with some of the best student sports teams in the country. Choose from 47 different sport clubs.