Coaching, classes and club programme
Delivered by a team of experienced and qualified coaches, Team Bath Tennis' club programme is an all-inclusive tennis programme which spans over three terms per year (aligned with school terms) and holiday camps.
Our Vision: Train-Play-Compete

Our Vision

800/400: To have 800 people training within the University of Bath and 400 training on community sites all within our Train-Play-Compete framework.

Our Mission

To be a nationally recognised community tennis programme that is accessible, progressive, energetic and competitive.

Our Values

Quality – be the best you can be; Energy – radiate energy & passion; Progressive – always looking to improve; Trust – honesty and transparency.

We aim to create a programme with these values in mind and hope that you see this on court each and every session.
We have approaching 1,000 coaching bookings at our Team Bath Sports Training Village home, as well as local venues Frome Selwood Tennis Club and Saltford Tennis Club. New players and seasoned pros alike are welcome!
Additionally, as part of the national LTA performance pathway, Team Bath Tennis is both a LTA Regional Player Development Centre and LTA Local Player Development Centre. We will continue to offer affordable performance training for children aged ten and under in the Avon, Wiltshire and Somerset area. For full details on the programme, please contact tennis@teambath.com.
Furthermore, the club programme regularly holds competitions for mini and junior tennis players alike, including our World Tour internal tournament and LTA events.
---
Courses and classes
We run classes for all ages; from parents and toddlers (3-year olds), tots (4 and 5-year olds) and under-10s, to teenage and adult tennis.
Autumn 2020-21
Unfortunately, following updated Government Coronavirus guidelines, we have had to suspend our club coaching programme – which had been due to resume on November 2nd – with immediate effect.
We are planning to restart the new term on Monday, December 7th and run for seven weeks split as follows:
December 7-19, 2020.
January 11 – February 13, 2021.
Bookings are now being taken online for the new term. Please click here for full details, including important information about visiting the Team Bath Sports Training Village.
---
External tennis venues
If you cannot make the times offered at the University or love your tennis at the University so much you want to do additional sessions, we offer something for everybody at our outreach venues:
Saltford Tennis Club
We offer Monday, Wednesday evening and Saturday morning sessions at Saltford Tennis Club. Saltford is a three-court, floodlit club with a friendly atmosphere which compliments the University well. Membership is relatively cheap and offers big reductions on course costs and unlimited court use.
Frome Selwood Tennis Club
We began running courses at Frome Tennis Club in Summer 2019.
---
Holiday camps
We run hugely-popular tennis camps during school holidays. Click here for more information.
---
Individual lessons
Our coaches are available for one-to-one sessions for bespoke individual improvement. For pricing, contact details and availability, see: Team Bath Tennis Coaching [PDF]
Please note: It is our philosophy that young players learn the basics of the game within group lessons before looking at individual lessons. Once your child is engaged and enjoying their tennis with us the next step is to look for individual lessons which we can offer through our team of qualified coaches.
As we run a very busy centre the times offered are limited and most often available at the weekends, early mornings or later in the evenings. Please contact the coaches directly for their specific availability.
---
A great tournament venue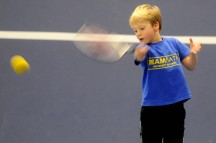 We offer year-round mini tournaments for mini red, orange and green players. Our tournaments are run by experienced referees and organisers.
For details about our Grade 5 tournaments, please contact Tom Osborne.
For Grade 2-4 tournaments, please contact Chris Matthews at Compete, who runs these tournament out of the Team Bath Sports Training Village.
---
Contact us
Head of Club Coaching Tom Ellis can be contacted for any specific question, concern or feedback on te256@bath.ac.uk or on 01225 384210. He is also the contact to book a class at the Team Bath Sports Training Village.
For more information or to book onto a class at our outreach venues (Frome Selwood, Monkton and Saltford) please contact Dillon Slade on tennis@teambath.com or on 01225 384247. 
Senior performance coaches Jordan Frederick and Tom Osborne can be contacted about their lead areas of 10&U Performance and Junior Performance respectively.
---
---
Child Protection Policy
Click here to read the Department of Sports Development and Recreation (Team Bath) Child Protection Policy.
Click here to read the University of Bath Child Protection and Safeguarding Policy.
Welfare Officer for Tennis – Greg Sharp: Email adsgas@bath.ac.uk. Call 01225 386907.
---
2020-21 academic year
All tennis activities – coaching, training, competition and recreational – will be subject to prevailing Government and sport-specific guidelines.