Coaching, classes and club programme
An all-inclusive tennis programme
Delivered by a team of experienced and qualified coaches, Team Bath Tennis' club programme is an all-inclusive tennis programme which spans over three terms per year (aligned with school terms) and holiday camps.
The club programme regularly holds competitions for mini and junior tennis players alike.
We also encourage those receiving coaching to attend and put their skills to the test!
Courses and classes
We run classes for all ages; from parents and toddlers (3-year olds), tots (4 and 5-year olds) and under-10s, to teenage and adult tennis.
External tennis venues
If you cannot make the times offered at the University or love your tennis at the University so much you want to do additional sessions, we offer something for everybody at our outreach venues:
Saltford Tennis Club
We offer Monday, Wednesday evening and Saturday morning sessions at Saltford Tennis Club (summer 2017) [PDF]
Wellow Valley Tennis
We also offer sessions at Wellow Valley Tennis (summer 2017) [PDF], a local tennis club just south of Bath.
Coaching bookings: Wellow Valley Tennis website [external link].
Saltford is a three-court, floodlit club, and Wellow is a two-court, floodlit club with a friendly club atmosphere which compliments the University well. Memberships at both venues are relatively cheap and offer big reductions on course costs and unlimited court use.
Monkton Prep School
Courses also run at Monkton Prep School (summer 2017) [PDF] on Tuesday evenings and Saturday mornings.
Holiday camps
For further information, download our flyer: Team Bath Tennis summer camp 2017 [PDF]
Contact

To book onto a class, contact Dillon Slade on 01225 384247 or tennis@teambath.com.

For more information about any of the above classes, contact Tom Ellis on 01225 384210 or tennis@teambath.com.
Individual lessons
Our coaches are available for one-to-one sessions for bespoke individual improvement. For pricing, contact details and availability, see: Team Bath Tennis Coaching [PDF]
Please note: courts are very busy and players already on the group sessions take priority.
A great tournament venue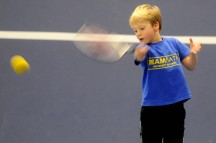 We offer year-round mini tournaments for mini red, orange and green players. Our tournaments are run by experienced referees and organisers.
For adults and Junior Development Players please contact Chris Matthews at Compete who runs these tournament out of the University.
Keep up to date