Coaching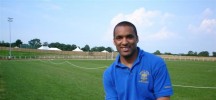 Track and field athletes of all disciplines can enjoy some of the nation's best facilities and support services whilst training at Bath and competing regionally, nationally and internationally.
The University's athletics coaching team is led by Colin Bovell, Head of Track and Field, and his team covers all of the athletics disciplines. Malcolm Arnold, National Events Coach – Hurdles, heads up the UK Athletics training group at Team Bath.
Performance Athletics Training Timetable
| Day | Time | Time |
| --- | --- | --- |
| Monday | 17.00-20.30 | |
| Tuesday | 10-12.30 | |
| Wednesday | 15.30-18.30 | 16.30-19.00 |
| Thursday | 10-12.30 | 16.30-19.00 |
| Friday | 10-12.30 | 16.30-19.00 |
| Saturday | 10-13.00 | |
The coaching team
Title >
Head Track & Field Coach
Date and Place of Birth >
1972, Yeovil, England
Athletes Coached >
Damien Greaves (Olympian and World Championships), Dominic Girdler (Euro U20 Bronze medalist & AAA indoor gold medalist), Duncan Malins (GB U23 international & Indoors AAA's Silver medalist), Nicky Robinson (World U18 & U20 Competitor and AAA's U20 Champion), Nigel Levine (100m finalist at European Youth Olympic Festival 2005 and...
Title >
UKathletics Senior Performance Coach
Athletes Coached >
Jason Gardener, Dale Garland, Ryan Scott, Simon Phelan
Colin Jackson (World Record 110m hurdles), John Akii-Bua, Kay Morley Brown (Commonwealth gold), Nigel Walker, Paul Gray
Biography >
Director of Coaching, Uganda 1968-1972
Welsh National Coach, 1974-1994
British Athletics Head Coach & Development 1994-1997
Performance Director, UK athletics 1996-1997
UKathletics Senior Performance Coach 1997-present
Title >
Assistant Hurdles Coach, UK Athletics
Biography >
James started coaching in schools when he was at University in Birmingham as a summer job and found he had a real passion for it.
He started working with more elite athletes when studying for his Masters at College in America.
James helped the head track coach write sessions for the sprinters and hurdlers in...
Title >
Sprints Coach
Date and Place of Birth >
Winnipeg, Canada
Athletes Coached >
Ben Rushgrove, Paul Blake, Katrina Hart, Sophie Kamlish, Phil Doorgachurn, Ian Allerton, Philip Browne, Alex Animashaun, Graham Blackman, David Swift,...
Title >
MIddle Distance Coach
Biography >
Dave is a Level 4 Endurance and Steeplechase Coach, the Talent ID administrator (Endurance) and has coached multiple athletes to sub 3.40.00 (male) at 1500m.
He has been coaching since 1976, and has coached students at the University of Bath since 1997 in Middle Distance and Long Distance including Marathon. Students coached include Marylyn Okoro.
1